A Memorial Fit for a Queen
Honoring Aretha Franklin
9/5/2018, 11:15 a.m.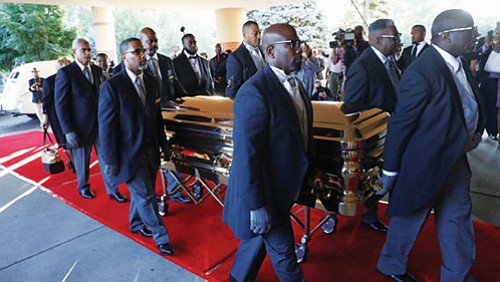 (AP) -- An all-star lineup of mourners filled a Detroit church with prayers and songs Friday for Aretha Franklin's funeral, honoring her not just as the Queen of Soul but also as a lifelong friend, family member, churchgoer and activist.
Guests at the Greater Grace Temple included former President Bill Clinton, former first lady Hillary Clinton, the Rev. Jesse Jackson, Stevie Wonder and Smokey Robinson.
Robinson, the Motown great, remembered first hearing her play piano when he was just 8 and remaining close for the rest of her life, talking for hours at a time. "You're so special," he said, before crooning a few lines from his song "Really Gonna Miss You."
"Really gonna miss you, really gonna be different without you," he sang.
The service encompassed many elements, emotions and grand entrances that were hallmarks of her more than six decades on sacred and secular stages. It was a send-off both grand and personal.
Ariana Grande sang one of the Queen of Soul's biggest hits, "(You Make Me Feel Like) A Natural Woman," and Faith Hill performed "What a Friend We Have In Jesus." The Aretha Franklin Orchestra performed a medley featuring "I Say a Little Prayer," ''Angel" and other songs the Queen of Soul was known for, along with gospel numbers "I Love the Lord" and "Walk in the Light."
Barbara Sampson read a statement from former President George W. Bush, saying that Franklin would continue to inspire future generations. The Rev. Al Sharpton read a statement from former President Barack Obama, who wrote that Franklin's "work reflected the very best of the American story."
Sharpton received loud cheers when he criticized President Donald Trump for saying that the singer "worked for" him as he responded to her death. "She performed for you," Sharpton said of Franklin, who had sung at Trump-owned venues. "She worked for us."
Franklin died Aug. 16 at age 76.
Her body arrived for the service in a 1940 Cadillac LaSalle hearse. She wore a shimmering gold dress, with sequined heels -- the fourth outfit Franklin was clothed in during a week of events leading up to her funeral.
The casket was carried to the church that also took Franklin's father, the renowned minister C.L. Franklin, and civil rights pioneer Rosa Parks to their final resting places at Woodlawn Cemetery, where the singer will join them. Pink Cadillacs filled the street outside the church, a reference to a Franklin hit from the 1980s, "Freeway of Love."
Program covers showed a young Franklin, with a slight smile and sunglasses perched on her nose, and the caption "A Celebration Fit For The Queen." Large bouquets of pink, lavender, yellow and white flowers flanked her casket.
Floral arrangements from singers such as Barbra Streisand and Tony Bennett and from the family of the late Otis Redding, whose "Respect" Franklin transformed and made her signature song, were set up in a hallway outside the sanctuary. An arrangement from singer Sam Moore included a card that read, "You know I always adored and loved you to bits and pieces ... Even when we would fuss."
Mayor Mike Duggan announced during the service Friday that the city would rename the riverfront amphitheater Chene Park to "Aretha Franklin Park." His proposal was seconded by Brenda James, city council president.
Family members, among them granddaughter Victorie Franklin and niece Cristal Franklin, spoke with awe and affection as they remembered a world-famous performer who also loved gossip and kept pictures of loved ones on her piano.