Orchestra as a Garage Band
Music training program adds a new dimension
9/5/2018, 10:25 a.m.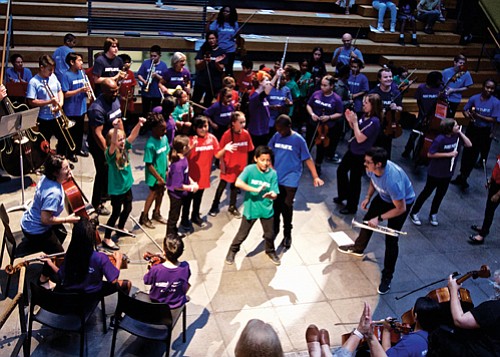 A new classical music training program working with disadvantages students in Portland Public Schools dubbed "Collective Composition" combines the brilliance of Beyoncé with the power of Beethoven
This summer, the BRAVO Youth Orchestras added a revolutionary new aspect to its ongoing work. They turned the orchestra into a garage band.
Gone were the music stands. Gone was the sheet music. Instead, the students formed a circle with their instruments and, with guidance from a team of Teaching Artists from across the country, began to use the skills honed in their regular program to create music from their own experience.
Executive Director Seth Truby put it this way: "For our student musicians, this was a transformative experience. When you create the space and context to help the kids create their own music, there is a new sense of urgency and a powerful relevance. They can write about what they want, what compels them, what worries them. It's a fundamentally different experience than playing from sheet music."
And what came out of it? A new musical creation, created in the midst of the national furor over separating children from their parents at the border, called "Break the Cage."
Now in its sixth year, BRAVO Youth Orchestras serves nearly 800 students in five high-poverty schools in north Portland with intensive music programs during and after the school day, including winds and strings.
BRAVO students have played with violinist Joshua Bell, Black Violin and Hypnotic Brass, and performed onstage at the Arlene Schnitzer Concert Hall alongside the Oregon Symphony under the direction of Maestro Carlos Kalmar.
BRAVO plans to serve all the schools in the Roosevelt High School cluster by about 2023.