Supporting Tubman and KairosPDX
Thursday meeting at SEI to build coalition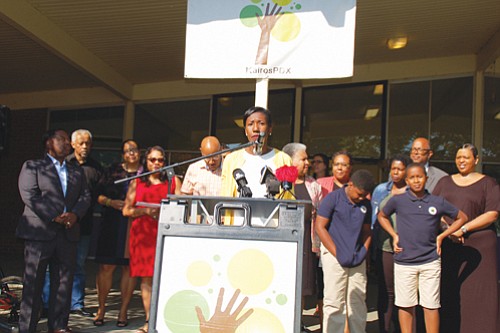 Education advocates in Portland's black community are calling on parents and other supporters to join them for a meeting on Thursday at Self Enhancement, Inc. to gather support for Tubman Middle School and KairosPDX Elementary, two public schools that serve African American students in north and northeast Portland.
The open-to-the-public session will be held at the non-profit SEI center, 3920 N. Kerby St.., on Thursday, Sept. 6 at 6 p.m., hosted by the African American Community Coordinating Group.
The fate of KairosPDX, a majority black charter school that uses evidence-based methods to increase learning outcomes, as well as incorporating a culturally specific curricula, has been up in the air since Portland Public Schools offered only a one year lease of its former Humboldt School site and imposed a rent increase of over 30 percent—with just a month's notice.
KairosPDX leaders say the school needs a five year lease to provide stability while they find a permanent location in the historically black Albina district of north and northeast Portland. Tubman is looking for support in its first year since re-opening as the only middle school in Portland to serve a majority black population.
The students at KairosPDX outperform black kids at other schools three fold, the school's co-founder and executive director Kali Thorne-Ladd said last week at a news conference calling for support for the school.
"We're here today because we believe in a better future for black children," Thorne-Ladd said, ahead of a school board meeting where supporters showed up in droves wearing "Black Kids Matter" T-shirts and singing what's considered the black national anthem, "Lift Every Voice and Sing."
"Kairos is a family to me. Kairos is a place where I can depend on others, where people can help me, and I get smarter every single day," a student, Zahire Hardy, said at the press conference.
"I never felt like I had a community. I see in my son that he has a community and he's fearless," Zahire's mother, Wazirah Hasan, added.
KairosPDX is backed by prominent members of the black community, many of whom also testified at the school board meeting. They're asking Portland Public Schools to allow the school to fulfill its mission of closing the achievement gap for kids of color.

Citing the school district's "shameful history" of not caring about educating black children, retired State Sen. Avel Gordly, in a letter presented to the board, demanded "board policies that are right, just and fair for our children's education."
"We are here demanding that you…commit to putting in place the resources that will lead to a quality, non-racist education for black children and all children in Portland Public Schools," Gordly said.
Superintendent Guadalupe Guerrero signaled on the same day that he's open to negotiating a solution both parties can agree on, saying the district is committed to disrupting racial inequalities and ensuring the success of all students.
"We appreciate the work that the Kairos school community has done and we share the same cause. We will work actively towards resolving the facility question, and are confident we can come to an acceptable agreement," Guerrero said in a statement.
A year ago, Portland Public Schools considered displacing KairosPDX with ACCESS Academy, a diverse program for highly-gifted students, but one that is majority white. A public outcry, including from Mayor Ted Wheeler, pressured the board to let the school stay in their current location.
The building had not been a neighborhood elementary school for four years by the time KairosPDX moved in back in 2016 and it's unclear whether the school board has something in particular in mind for its future use.
Even so, it is district policy that "each charter school is responsible for securing its own school site," according to the district's website. Back when KariosPDX moved in to the former Humboldt school building in 2016, it was the first time PPS leased one of its buildings to a charter school.
The district's equity goals notably list providing "every student with equitable access to high quality and culturally relevant instruction….even when this means differentiating resources to accomplish this."
Partnering with organizations who have demonstrated "culturally specific expertise…in meeting our educational outcomes," is also a listed goal the district has.
The African American Community Coordinating Group is a group of African American leaders and community members that formed two years ago in response to increased gang violence whose members include educational advocate for the African American community Ron Herndon, Joe McFerrin of Portland Opportunities Industrialization Center, and Self-Enhancement Inc. Executive Director Tony Hopson. Since its formation, they've held gatherings at SEI to address topics such as education, housing, and jobs, Hopson told the Portland Observer. Last year they put pressure on the school district to keep KairosPDX in their current location when the school faced displacement.