Trying to Get it Right
A Jobs and justice mandate for Broadway development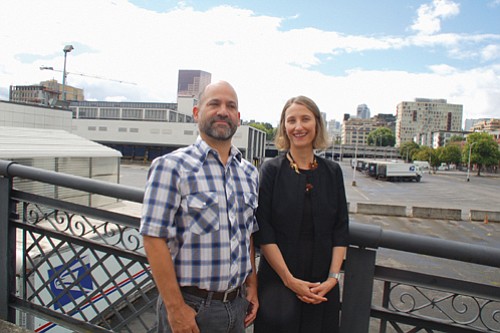 It's no secret that Portland has mismanaged economic and residential development in the past and caused the diaspora of much of its African American community. But now the city is taking a different tack, and forming an agreement with a coalition of nonprofits to work with the developer and the city to determine the scope of a major downtown development.
Dubbed the Broadway Corridor, 32 acres of prime Pearl District real estate purchased by the city for $88 million for new housing and retail development, will be governed by a Community Benefits Agreement, or CBA to make sure the project benefits Portland's diverse and disadvantaged populations.
When Prosper Portland, the city's development arm, held a recent open house about the property, which includes Union Station and the 14-acre Main Post Office distribution center, members of the Healthy Communities Coalition packed the room and made their voices heard.
The city listened, and the developer, Continuum Partners of Denver, and the coalition will share input on the aspects of the development that will include at least one high-rise building with retail shops and thousands of new apartments.
Details to be agreed on include the number of low-income and disabled accessible housing units, on-site affordable day care, free public transit passes, jobs creation, and more that will be spelled out in the coming months, said Tony DeFalco, deputy director of the nonprofit Verde, an organization formed in northeast Portland's Cully Neighborhood which promotes the economic and environmental uplifting of low-income communities in the city.
The CBA, which will be legally binding, will be a first for the coalition, DeFalco said.
"The big picture is that this is an opportunity for us as a city to get development right by prioritizing racial justice, environmental justice and economic justice," he said.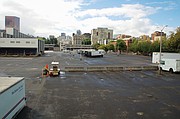 The city caused great harm to communities of color in the past when urban renewal projects from the 1960s and 70s brought the construction of the Memorial Coliseum, the I-5 freeway, and an expanded Emanuel Hospital campus that all but wiped out the thriving African American community of Albina. Combined with gentrification in the 1990s, and 2000s, thousands of black residents have been displaced. But now the city is trying to correct previous mistakes.
The Healthy Communities Coalition was only created a few years ago, said DeFalco, and this is its first major development undertaking. Members of the coalition include OPAL Environmental Justice, O'Neill Construction, Main Street Alliance, Portland Voz, Metropolitan Alliance for Workforce Equity, Coalition of Communities of Color, Portland Firefighters Union, Oregon Tradeswomen, Asian Pacific American Network of Oregon, International Brotherhood of Electrical Workers, and several more unions and nonprofits.
DeFalco said he is "particularly excited" that the coalition is made up of labor, environmental and civil rights groups.
"Let's build on the painful understanding that we have of how urban renewal has not benefited our communities, to lift up something that really does benefit our communities," he said. "I see in this proposal a real desire to do that and now we have the hard work of committing to that and working through that over several months and into the coming years."