Accepting the Challenge
For new OHSU leader, it's about doing better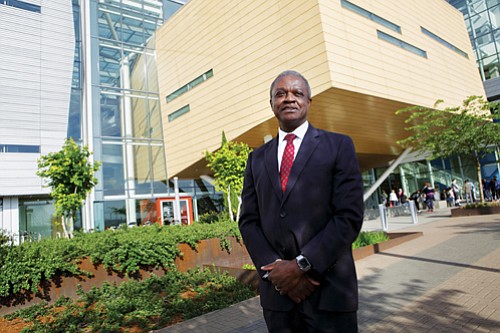 Collaboration with community stakeholders to inform strategic plans for the future was a method Jacobs used at University of Texas. He said he's in the midst of using that same approach at OHSU, the first step of which he calls a "listening tour" of people all over the state, whom he considers stakeholders of the university.
"Over the next several weeks…we'll be asking folks who are interested in the university their opinions while we craft this idea of what we want university to be in the near future--2025, for example…and then we'll work backwards to reverse engineer that process."
Jacobs predicts creating task forces that are transparent to the public and comprised of some of the hospital's 16,000 employees will be instrumental in carrying out their goals.
"We'll have to measure our success along the way. We will decide together what our key performance indicators will be and then we will decide how we will track them and then we will regularly reevaluate our progress to see if we need to decide our objectives or change our approach," Jacobs said.
Creating a strategic plan to reflect the communities' collective desired goals will be next on his to-do list, a move to build upon the strategic plan previously set in place that his predecessor, Dr. Robertson, sponsored.
The current strategic plan the university has posted on its website, called Vision 2020, lists an organization "diverse in people and ideas" as one of its goals, a tradition Jacobs plans to continue.
"I think diversity is a moral imperative. It certainly resonates with me personally," Jacobs said.
He added diverse organizations tend to better serve their faculty, staff, and clients, according to research.
An ongoing effort for staff to undergo training that is designed to thwart the negative effects of unconscious biases at the university is another measure the university is taking to ensure inclusiveness.
"We'll continue that initiative, I think that's an important one," Jacobs said.
In terms of Jacobs' education goals of the university, he advocates for a team-based, patient-centered pedagogy.
In addition to a medical doctorate, Jacobs also boasts a master's in public health and is an American College of Surgeons fellow. He's also held faculty positions at University of Pennsylvania, Harvard, Creighton University, and Duke University, where he was chair of surgery for about a decade before moving to Texas.
As a researcher and doctor who once worked the front lines with patients, Jacob's interests included nutrition and metabolism and how that relates to caring for patients pre- and post- surgery. He also researched nuclear magnetic resonance spectroscopy of organ function, bioenergetics, and growth factors in the nutritional support of patients.
Jacobs was originally inspired to enter the science field as a child from seeing Russians making headway in the space race during the Cold War era of the 1950s with their release of Sputnik 1, the first artificial Earth satellite. He also wished to follow in the footsteps of his older sister, who was four years his senior and participated in national science foundation summer enrichment activities. But in order to reconcile the morals his parents instilled in him during his upbringing, which heavily emphasized community public service, he switched from being a full time basic science researcher to pursuing a career in medicine, with the nudging of a wise college counselor.

"Over my career it's really been about trying to figure out how to serve while also investigating problems or challenges that directly impacted patient care with the hope that I could in some way contribute to something that advanced the state of the art as regards to patient care," he said.