September shows at Guardino
On Alberta Street
9/12/2018, 10:52 a.m.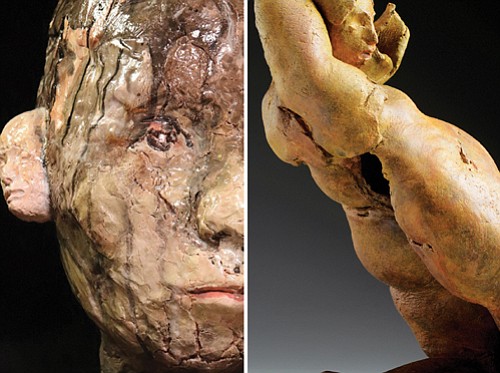 Ceramic art and self portraits in clay highlight what's on display through Sept. 25 at the Guardino Gallery, 2939 N.E. Alberta St.
In the main gallery, ceramic artist Michele Collier displays works that stretch, compress, twist and turn to match the images in her imagination. Her works preserve the fluidity of the slab while manipulating it to express the figure in motion.
Michael Vos brings his ongoing body of work entitled "Dead Cities," which is a documentation of abandoned and forgotten places across the world. It is predicated on the idea of what would the world look like without us?
In Guardino's featured area, college/mixed media artist Penda Diakité meshes the brilliant colors and patterns she found growing up while living in Mali, West Africa and Portland.
Andy Kennedy shows off his craft portraits in clay. He works in a style of cartoonish, primal impressionism, but the clay body itself, including glazes, deserves half the credit.