A Struggle to Stay Relevant
Factory workers fight for survival in 'Skeleton Crew'
9/12/2018, 10:57 a.m.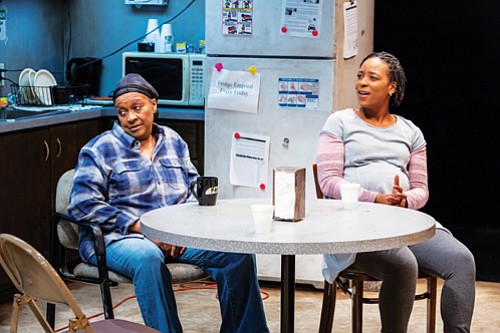 An award winning play that touches on the struggles of factory workers living pay check to pay check amid a dying Detroit auto plant and featuring an all-black cast kicks off a new season for Portland's Artists Repertory Theater.
"Skeleton Crew" by Dominique Morisseau, and directed by William (Bill) Earl Ray, reveals the struggles of everyday Americans trying to stay relevant in a society that constantly changes. Together, the workers somehow shape themselves into a makeshift family, trying to figure out what's next. What will happen? How will they survive?
Morisseau's work includes a string of finely crafted plays that are being seen by audiences across the country. Ray, a director and actor with 40 years of experience, last directed at Artists Rep for the production of "Ain't Misbehavin' and he also acted in Artists Rep's "A Raisin in the Sun."
"Skeleton Crew" opened last week and runs through Sept. 30 on Artists' Rep's Morrison Stage, 1515 S.W. Morrison St. Shows are Wednesdays -Sundays at 7:30 p.m., Saturdays at 2 p.m., and Sundays at 2 p.m.

For tickets and more information, call the box office at 503.241.1278 or visit artistsrep.org.