Grand Jury Rules for Campus Police
PSU body camera footage released; campus probe continues
9/14/2018, 12:46 p.m.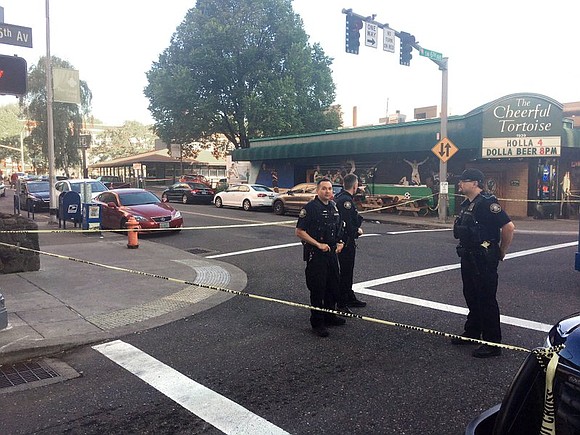 Portland State University Friday released body-camera video from two campus police officers who fatally shot a legally armed black man last June 29 outside a bar across from the PSU campus in a case that has focused attention on whether campus officers should be carrying weapons.
The latest development came after a Multnomah County Grand Jury on Thursday cleared the campus safety officers of any criminal charges. The grand jury deliberated for two days before finding that PSU officers James Dewey and Shawn McKenzie acted in lawful self-defense and/or defense of a third person, the Multnomah County District Attorney's Office said.
The death of Jason Washington, a 45-year-old Navy veteran and U.S. postal worker, father of three and grandfather, prompted protests against PSU's 2014 decision to arm its campus security officers despite concerns raised by faculty and students.
The body-camera footage shows the police officers arriving on the scene and Washington trying to break up a fight outside the Cheerful Tortoise bar around 1:30 in the morning.
A bystander can be seen pointing at Washington and telling the officers that Washington "pulled a gun" on them. But the video does not show Washington, who had a concealed weapon permit, pointing his gun at the men involved in the fight.
The video shows Officer Dewey walking up to Washington from behind, placing his arms on his back and trying to pull him away from the fight. When Washington is asked to back up, he falls which causes his gun to drop from his pocket and hit the ground. An officer can be heard saying, "He's got a gun."
The officers repeatedly yell at Washington to "drop the gun," as he picks up his gun and starts to stand up. Right before shots are fired, an officer is heard saying, "We will shoot you." It takes approximately 3 seconds for shots to be fired from the moment when Washington is first told to drop his weapon.
Washington's widow, Michelle Washington, said in a statement released on Thursday immediately after the Grand Jury findings were made, that her family was disappointed in the decision to not bring any criminal charges, but thanked the grand jury for their service anyway, and added that she would consult her private attorney on possible next steps, including a civil lawsuit.
"We want those responsible for the death of my husband to be held accountable," she said. "We will always remember and love Jason and know he was needlessly killed while attempting to keep the peace."
"We intend to vigorously pursue legal action against those who are responsible for this tragic death," Michelle Washington's lawyer, Christopher Larsen, added.
Portland State University's president said he has hired two independent firms, one to examine the school's policy of arming campus police and another to conduct its own investigation into the shooting. The consulting firms were chosen based on an oversight committee's recommendations.
"Mr. Washington's death has deeply shaken all those involved as well as the greater campus community, and we are determined to learn from it," said PSU President Rahmat Shoureshi.