Next Steps in PSU Shooting
Campus opens probes; board open to disarming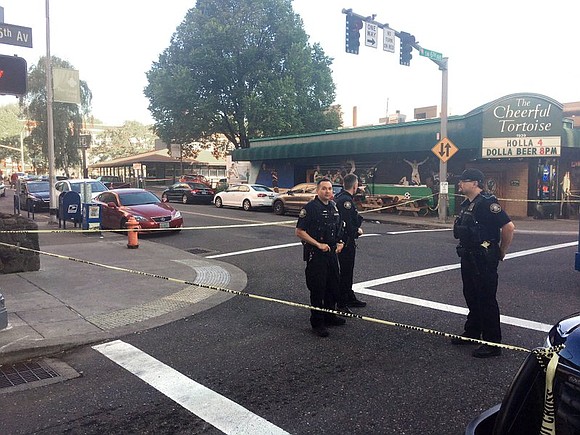 After a grand jury cleared two Portland State University police officers of criminal charges in the shooting death of a lawfully armed black man and evidence from the case is before the public for the first time, the university will begin its own public investigations into the circumstances of the case which will include an examination of PSU's policing policies and may result in a decision to disarm campus police entirely, PSU officials said.
On Thursday, a Multnomah County Grand Jury determined that PSU police acted either in self defense or to protect other lives when Jason Washington, a 45-year-old Navy veteran, father, grandfather, and U.S. Postal Service employee, was shot on June 29. The deadly confrontation marked the university's first officer-involved shooting since arming its security force three years ago in a controversial decision.
Evidence released to the public for the first time shows Washington was carrying his friend's firearm and had his own conceal carry permit at the time. Body cam video from campus police show he was shot after trying to stop a bar fight outside the Cheerful Tortoise, a popular bar in the vicinity of the campus.
The two officers involved, Shawn McKenzie and James Dewey, fired 17 shots at Washington, after warning him to drop the gun.
Portland State University President Rahmat Shoureshi released a statement following the grand jury's decision. He said PSU has hired two independent firms, one to examine the school's policy of arming campus police and another to conduct its own investigation into the shooting. The consulting firms were chosen based on an oversight committee's recommendations, an effort to make the review process more transparent.
"Mr. Washington's death has deeply shaken all those involved as well as the greater campus community, and we are determined to learn from it," Shoureshi said. "My hope is that our actions following this tragedy will help make our campus and community a safer place for years to come."
The PSU Board also released a statement that signaled they will carefully consider the findings of the policy review, calling Jason Washington's death a "tragedy".
"The Board of Trustees has been and continues to be deeply affected by the June 29th death of Mr. Jason Washington," the statement read. "The Board wrestled with the decision to arm campus police in 2014, and we are prepared to wrestle with it again—with open minds—to determine whether the current policy should be continued or changed."
Dewey and McKenzie will be placed on desk duty—still with firearms -- while the university's independent investigation gets underway, officials said. The officers had been on paid administrative leave since the shooting. A re-evaluation of their status will be conducted after the independent study is completed, the university said.
Body camera videos from the two officers involved, and 70 freeze frame photos from the police investigation that were released through a public records request show different angles of the shooting. In addition, cell-phone video shot by a witness and released shortly after the shooting shows Washington repeatedly trying to restrain a friend before he was shot.
A 397-page police report completed by the Portland Police Bureau, and also released Friday, revealed that Washington's gun belonged to his friend, Jeremy Wilkinson, who had asked Washington to take it so he didn't make a "poor decision" in a drunken confrontation. Washington was also found to have had a blood alcohol content reading of more three times the legal driving limit when he died.
The footage from Dewey's camera shows the campus police officer rolling up to a fight outside the bar around 1:30 a.m. As he exits the patrol vehicle, a camouflage -clad man, Patrick Dean, is heard telling the officer, "He pulled a gun on us! He pulled a gun!" as he points to Washington, who appears to be trying to keep his friend from a fight.
In later interviews with police, Dean said Washington "didn't pull it out [on] anybody, he didn't point it at anybody."
Washington's visibly intoxicated friend, Wilkinson, is seen in the police video breaking away and then punching another man until he is kicked by Dean in the head and knocked out.
As Washington tries to pull yet another man away from the unconscious Wilkinson, Dewey grabs Washington's arm from behind and tells him to back away from the fight. A black object that appears to be a gun is visible protruding from Washington's right hip pocket.
Dewey and the other police officer repeatedly yell at Washington to "drop the gun."
A witness told several media outlets immediately after the shooting that she saw the gun fall out of Washington's pocket after he fell to the ground, and he was shot after he picked it up.
It's unclear from the angle of both police body camera videos, and the eyewitness video, however, whether Washington is holding the gun when he is shot.
Right before the shots are fired, an officer is heard saying, "We will shoot you." It then takes approximately 3 seconds before both officers begin firing their weapons and Washington falls to the sidewalk, dead, next to Wilkinson, after being hit in the cheek, ear, chest, back, and hip area. The records also show 17 bullet casing were found at the scene.
In the police video, Dean, the man who earlier claimed Washington pulled a gun on him, becomes distraught at the sight of the shooting, screaming at the officers, "You killed him! He's dead! He's dead, bro, I don't even know him, and he's dead!"

Wilkinson's gun, a black Walther PPQ 9mm pistol, is reportedly found about 6 inches from Washington's right hand. Washington's permit to carry a concealed handgun was found in his wallet, a police officer's report said.
Washington did not seem heavily intoxicated, according to several witness's testimony to police. But according to toxicology results, Washington's blood alcohol content was 0.24 when he died.
The police investigation also revealed Wilkinson's reaction after the shooting: "Holy sh— Michelle's gonna kill me," Wilkinson said, in reference to Washington's widow, Michelle, according to a police transcript. "I gave him my gun, he got in trouble for that, oh my gosh."
Michelle Washington showed up two hours after the shooting because her husband was not responding to messages and was late coming home.
She had no idea he'd been shot and stumbled on the scene after tracking Washington's cellphone, the police report said. She found out from a police detective 40 minutes later that Washington was the man killed and helped identify him by describing his tattoos.
She also said in a statement immediately after the Grand Jury findings were made on Thursday that her family was disappointed in the decision to not bring any criminal charges, but thanked the grand jury for their service anyway, and added that she would consult her private attorney on proceeding with a civil lawsuit, and other next steps.
"We want those responsible for the death of my husband to be held accountable," she said. "We will always remember and love Jason and know he was needlessly killed while attempting to keep the peace."
"We intend to vigorously pursue legal action against those who are responsible for this tragic death," Michelle Washington's lawyer, Christopher Larsen, added.
PSU President Shoureshi invited students and community members to attend an Oct. 4 PSU Board of Trustees meeting concerning the shooting and the future of the campus security force. The PSU Student Union said its members would be there in force. Students are also planning a rally on Monday, Sept. 24 in order to call for the immediate disarmament of PSU campus officers and the firing of Dewey and McKenzie.
A student union posting on Twitter said Washington was a victim of racial profiling from PSU police, "This is why we do not, and have never wanted armed police officers on PSU's campus," the post said.
Washington's death reignited a long-worn debate about the policy to arm campus officers at PSU, which was first equipped with guns starting July 2015.
The 2014 vote by the Board of Trustees in favor of arming officers has seen the opposition of student groups and activists ever since and surveys of the school's students and faculty showed the majority were opposed to the policy back in 2013, according to an NAACP statement, who called the shooting "shameful and egregious."