United Against Hate
Clark sheriff, others, speak out on racism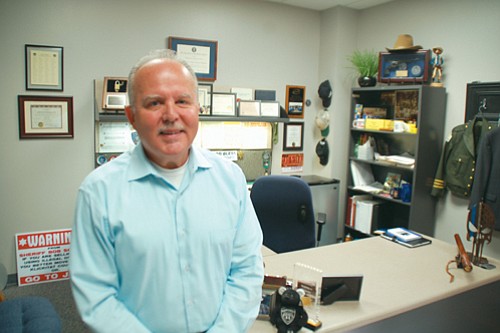 Clark County officials in southwest Washington want the public and its employees to know that it rejects hate groups that propagate violence and discrimination, a message that's now being shared by civil rights groups representing black and Latino communities in the area.
On the heels of recent violence attributed to extremist right-wing groups in Vancouver and the region, as well as a former Clark County Deputy Sheriff who was let go for her affiliation with one such group, Clark County Sheriff Chuck Atkins released a joint statement with Prosecuting Attorney Tony Golik to denounce prejudice in all forms.
"We reject hate, bigotry, harassment, violence or the inciting of violence, and all actions intended to harm or intimidate others based on race, ethnicity, religion, sexual orientation, gender identity, immigration status, or any other attribute which serves to marginalize people or groups of people," said the statement, issued earlier this month.
In response, a joint statement was released from the Vancouver NAACP and League of United Latin American Citizens expressing appreciation of Atkins, Golik and other community members who stand up against hate, as well as calling for greater scrutiny of background checks for incoming and current law enforcement employees, among other concerns.
Atkins told the Portland Observer there wasn't a single incident in particular that spurred the statement, but an accumulation of hate-related incidents or movements in general over the last year and a half or so.

Right wing Patriot Prayer was one such protest group, which had a penchant for assembling in Vancouver and transporting themselves to downtown Portland.
Atkins, who was elected Sheriff of Clark County in 2015 and has a career in law-enforcement there spanning 35 years, said there's been a "groundswell" of protest groups locally, who often end up inciting violence at their demonstrations.
The sheriff said he's received some criticism for the statement's commitment to fight discrimination against undocumented immigrants, but called the complaints unwarranted.
"Deputy's job is not to enforce immigration laws. The enforcement is at the federal level," Atkins said.
While he said enforcing laws broken on the local level, regardless of immigration status, will always be upheld, to enforce federal immigration policy, regardless of its legitimacy or lack thereof, is simply against the law.
As for the former sheriff deputy who was associated with a hate group, Erin Willey, Atkins said her affiliation slipped through the agency's background check.
"It was an eye-opener for me to have somebody from inside my agency have an affiliation," Atkins said.
Willey was spotted on social media wearing a shirt with the logo of the Proud Boys, a far-right group that has propagated sexist, Islamophobic, and racist rhetoric and is recognized by the Southern Poverty Law Center as a designated hate group that formed in 2016.
When the post was brought to Atkins' attention by local media, it spurred an investigation and eventual firing of Willey.
"It lessens the people's trust factor, in an agency like mine to uphold the law, to be associated...with people that are clearly trying to push the law to its edge and break the law out there in the community and cause hate and discontent. That goes against the character of this agency."
Southwest Washington LULAC and Vancouver NAACP are both groups that Atkins said he's met with in the past and hopes to continue to stay connected. Their joint statement expressed appreciation of local law enforcement improving communications with its community.
The letter also called for more thorough enforcement of hate-crime laws and legislative action to make such laws stronger.