Opposing Kavanaugh
Unity at Planned Parenthood
9/25/2018, 2:23 p.m.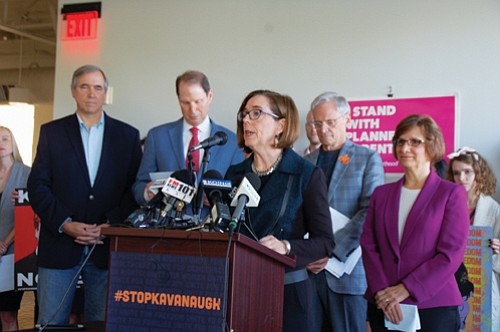 Gov. Kate Brown and most of Oregon's congressional delegation has joined reproductive rights leaders in the state to speak out against confirming Supreme Court nominee Brett Kavanaugh in the U.S. Senate, even as national Senate Republicans press for a swift vote confirming him to a life time position on the highest court.
Recent sexual assault allegations against Kavanaugh and a belief he will rule in favor of placing restrictions on abortion and other reproductive rights issues, has political leaders lining up to take a position in opposition to the Trump nominee.
A rally at Planned Parenthood with Democratic congressional office holders on Friday and another at the health care provider on Monday with the public at large, voiced support instead for Kavanaugh's alleged victim, Dr. Christine Blasey Ford, who put the nomination process in turmoil last week when she came forth with a claim that Kavanaugh attempted a sexual assault against her during high school.
Wyden and Merkley are calling on the FBI to reopen and complete a standard background check to fully investigate the allegations leveled by Ford.
"This nomination poses a fundamental question: Will America go backwards or forwards on women's privacy" Wyden said. "I am proud to stand with Governor Brown and all of you today at Planned Parenthood to say 'no way' to Donald Trump's nomination of Judge Kavanaugh."
"This is about the future of our country and what kind of nation we will choose to be for generations to come," Merkley added.
Oregon's two senators said they will vote against Kavanaugh's nomination and in solidarity, they joined Brown, U.S. Rep. Earl Blumenauer, and U.S. Rep. Suzanne Bonamici in solidarity at the rally at Planned Parenthood.
"We're looking at a future where women have fewer rights than we did in 1973," Brown warned.
Kavanaugh is feared by many to be a future vote to overturn Roe v. Wade, a 1973 Supreme Court decision that legalized abortion, and a judge who will roll back other rights for women. President Donald Trump has said in the past that he would nominate someone to the Supreme Court to overturn the landmark case.