Blazers to Host Fans
Preseason showcase has new start time
9/26/2018, 9:38 a.m.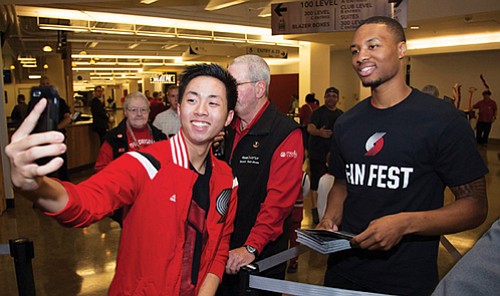 The preseason showcase that Portland Trail Blazers fans eagerly await is back with a new, later 7 p.m. start time. The 14th annual Blazers Fan Fest presented by Wells Fargo is set for Sunday, Sept. 30 at the Moda Center featuring new entertainment and fan engagement in the arena's lower bowl, alongside a first-look scrimmage by the new 2018-19 Trail Blazers roster.
The free event features first-come, first-served general admission seating, with doors opening at 6 p.m. Special front-row seating in select courtside areas will be reserved for kids from community-based organizations. Parking on the Rose Quarter campus will be free, subject to space availability.
Fans can download their free digital tickets online at trailblazers.com/fanfest.
The scrimmage will include four quarters of competitive, intra-squad NBA action. Three-time All-Star and All-NBA point guard Damian Lillard returns for his seventh season with teammates CJ McCollum, Jusuf Nurkic and more. Fans will get to interact with the Trail Blazers television and radio broadcast teams including Kevin Calabro, Lamar Hurd, Brooke Olzendam, Jordan Kent, Brian Wheeler and Michael Holton as they interview players and coaches on the new endzone entertainment stage.
Fans will also see performances by this year's BlazerDancers and Stunt Team; and have loads of chances at free prizes and other giveaways from team mascot Blaze the Trail Cat.