Judge Sentences Cosby to Prison
81-year-old led away from court in handcuffs
9/26/2018, 9:27 a.m.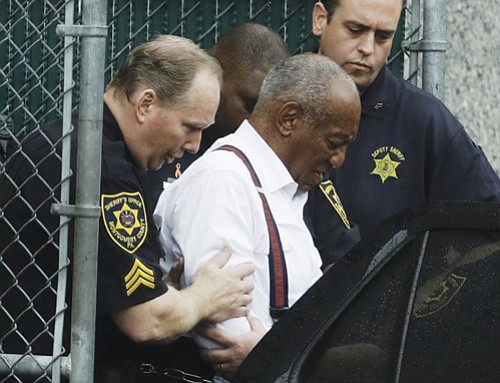 Cosby faced anywhere from probation to 10 years in prison. His lawyers asked for house arrest, saying Cosby — who is legally blind — is too old and vulnerable to do time in prison. Prosecutors asked for five to 10 years behind bars, saying he could still pose a threat to women.
The sentencing came as another extraordinary #MeToo drama unfolded on Capitol Hill, where Supreme Court nominee Brett Kavanaugh stands accused of sexual misconduct more than three decades ago.
Sonia Ossorio, president of the National Organization for Women of New York, credited Cosby's accusers with helping pave the way for the #MeToo movement.
"Bill Cosby seeing the inside of a prison cell sends a strong message that predators — no matter who they are, from Hollywood to Wall Street to the Supreme Court — can no longer be protected at the expense of victims," she said.
The judge ruled on Cosby's "sexually violent predator" status after a psychologist for the state testified that the entertainer appears to have a mental disorder that gives him an uncontrollable urge to have sex with women without their consent. When the ruling came down, a woman in the courtroom shot her fist into the air and whispered, "Yessss!"
In a statement submitted to the court and released Tuesday, Constand, 45, said that she has had to cope with years of anxiety and self-doubt. She said she now lives alone with her two dogs and has trouble trusting people.
"When the sexual assault happened, I was a young woman brimming with confidence and looking forward to a future bright with possibilities," she wrote in her five-page statement. "Now, almost 15 years later, I'm a middle-aged woman who's been stuck in a holding pattern for most of her adult life, unable to heal fully or to move forward."
She also wrote of Cosby: "We may never know the full extent of his double life as a sexual predator, but his decades-long reign of terror as a serial rapist is over."
In his testimony, Cosby described sexual encounters with a string of actresses, models and other young women and talked about obtaining quaaludes to give to those he wanted to sleep with.
Cosby's first trial in 2017 ended with a hung jury. He was convicted at a retrial that opened months after the #MeToo movement had taken down such figures as Hollywood studio boss Harvey Weinstein, NBC's Matt Lauer, actor Kevin Spacey and Sen. Al Franken.
Constand said Cosby gave her what she thought were herbal pills to ease stress, then penetrated her with his fingers as she lay immobilized on a couch. Cosby claimed the encounter was consensual, and his lawyers branded her a "con artist" who framed the comedian to get a big payday — a $3.4 million settlement she received over a decade ago.
Five other accusers testified at the trial as part of an effort by prosecutors to portray him as a predator.
Cosby, whose estimated fortune once topped $400 million, broke barriers in the 1960s as the first black actor to star in a network show, "I Spy." He went on to superstardom as wise and understanding Dr. Cliff Huxtable on "The Cosby Show," a sitcom that showed America a new kind of black TV family: a warm and loving household led by two professionals, one a lawyer, the other a doctor.