New Playground in Kenton
9/26/2018, 10:29 a.m.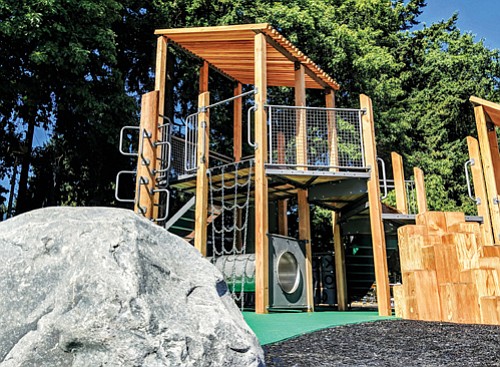 A new playground at Kenton Park is the latest Parks Replacement Bond project to come to completion. To mark the installation, a free and open-to-all celebration will be held Saturday, Sept. 29 from 1 p.m. to 3 p.m. at the park, located at 8417 N. Brandon Ave.
Extensive community input influenced the playground's natural theme, including wooden play elements such as a fort and balance beams, an accessible play surface, new park benches and picnic tables, a new drinking fountain, paved paths, and playground swings designed for a variety of abilities and ages.
"Portlanders are rightfully proud of our world-class park system. And thanks to the overwhelming support of voters for the Parks Replacement Bond, we're able make much-needed upgrades," says Portland Parks Commissioner Nick Fish. "Kenton Park's new playground and amenities make it one of our flagship parks."
The grand reopening celebration will feature brief welcoming remarks, cake, and activities.