Does I-5 Fix Fail on Equity?
In final comments, impacts on black community cited
4/10/2019, 7 a.m.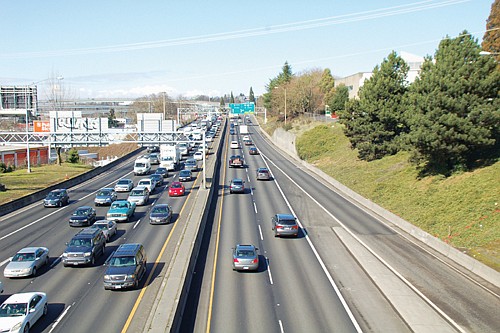 Governmental leaders from Portland and Metro have thrown shade to a plan to expand a segment of I-5 to fix a bottle neck at the Rose Quarter saying the Oregon Department of Transportation failed to address equity issues when studying the project, including the impact to a black population which was displaced from the area and would return under a new vision for the neighborhood.
As the public comment period on the highway construction project came to a close last week, Portland City Commissioner Chloe Eudaly called for a more extensive review of the impacts of the proposed $500 million renovation, joining a large number of voices critical of the project, including the Portland School Board, and environmental and community groups.
The project involves adding merging lanes, capping the freeway in a small portion of the 1.7 mile area, and adding two new pedestrian and bike bridges spanning the freeway.

It has gained criticism in part due to the proposed auxiliary lanes cutting even closer to the hillside near Harriet Tubman Middle School which serves a large African American community and already experiences pollutants outside due to traffic congestion. ODOT has claimed that the project would improve air quality because it would keep traffic moving.
"Although it would be nice to fix the bottleneck on I-5 and the project includes $250 million for surface street improvements focused on better pedestrian, bike, and transit infrastructure, as it stands the added auxiliary lanes on I-5 will not deliver meaningful safety, environmental, or equity benefits to Portland," Eudaly said.
In a letter addressed to ODOT Commision Chair Tammy Baney, and co-signed by Mayor Ted Wheeler, Metro Council President Lynn Peterson called for ODOT to adopt a racially sensitive approach to proceeding with the project, citing the hundreds of families and businesses that were displaced in the 1950s in the predominately black Albina neighborhood during I-5's original construction.
Peterson also backs Albina Vision Trust, a volunteer group seeking to re-develop the community of lower Albina with the construction of affordable housing and new public plazas, and other measures.
"[The highway project] is a once-in-generation opportunity to build over the divisive, trenched highway and reconnect inner east Portland neighborhoods to the Willamette River. Let's take the opportunity to fix the problem that was created when I-5 was originally construct," Albina Vision chair Rukaiyah Adams said in her own letter, in which she also called for an environmental impact statement from ODOT.