Rib Pit Finds Way to Survive
Wayne Cannon downsizes to keep barbeque history alive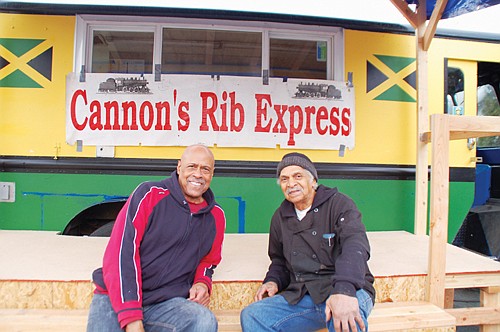 In an effort to keep a piece of Portland barbecue history alive, Cannon's Rib Express, which has cemented itself as a community hub with its award-winning hickory smoked dishes and friendly atmosphere for a generation, is moving from a fixed-location, sit-down restaurant—where the cost was getting too high to operate--to a food cart, proprietor and chef Wayne Cannon told the Portland Observer.
"We're in the process of trying to maintain a reasonable price of our product and keep the costs down to survive," Cannon said.
Cannon's previous location near Northeast Killingsworth Street and 33rd Avenue, a counter-serve venue with patio seating, has shuttered its doors and Cannon will now be amongst a shared plot of food carts that includes Jacksons Catfish Corner, Star Kitchen Thai Food, and Kee's #Loaded Kitchen—at the corner of Northeast Beech and Martin Luther King Jr. Boulevard. It's a move that coincides with an explosion of food carts in the Rose City over the past two decades.
Cannon received help making the transition from other food cart operators and his friend, Darnell Lowery, whom he met at a men's church group at Mt. Olivet Baptist Church in north Portland.
"I was crying the blues about the cost of labor and things of that nature and Darnell, being the humanitarian that he is, volunteered to help me out in my problem. He's been a total asset to the business," Cannon, 78, said.
Since joining Cannon's team about a year ago as a part time chef, Darnell, 70, has not only contributed his business acumen from having run a small business himself for many years—"Special Touch Ceramic Tile"—but also one of his family's secret recipes, "Helen's Sweet Potato Cake," to the menu. Much to Cannon's delight, they're selling--well--like hot cakes.
"It's been an addition that's really sparked up our dessert sales," Cannon said.
The southern dish rounds out the classic barbecue staples like ribs, chopped pork, chicken, and beef brisket that Cannon offers, many of which are covered in his own family's barbecue sauce recipe.
Cannon jokes that even behind the kitchen the recipes are still tightly guarded, even amongst the chefs. "I won't give [Darnell] the recipe for my barbecue sauce, he won't give me the recipe for his sweet potato cake," he said with a chuckle.
Cannon originally bought his rib pit business in 1995 from Chuck Hinton, who ran it as "Chuck Hinton's Rib Express" for 10 years prior. Hailing from California, Cannon has since established himself as an active member of the community. During hardships, he's provided food, like feeding the homeless, or preparing meals for families who are grieving, he said.
"I learned a long time ago when there's a death in someone's family, what they need more than anything is for someone to provide food because they don't have time to cook," he said.
Cannon has also been a mentor to many young people in the community, providing them with their first high school jobs, including André Lightsey-Walker, a Grant High School and University of Oregon graduate—where he was a track star—who now works at Metro; Charles Taylor-Love, who is now a footwear designer at Columbia Sportswear; and Honoré Arias, a Lewis and Clark Law School graduate.
"The lessons I learned working for Wayne back then still inform my decisions today, and I am very thankful for his friendship and the formative experiences I had working for him," Arias said in a written thank you letter to Cannon, one of several he's received over the years.
Cannon over the years has hosted weekly summer concerts with saxophonist Reggie Huston and, now that he's more centrally located and also next to the annual Beech Street Block Party, a popular event in the African American community, he expects to be a part of community celebrations for years to come. He also hopes to be in a position to throw concerts or events on his own again in the future.
"We're community-orientated and trying to stay that way and maintain that philosophy," he said.