Emotions Run High
Chief joins screening of 'The Hate You Give'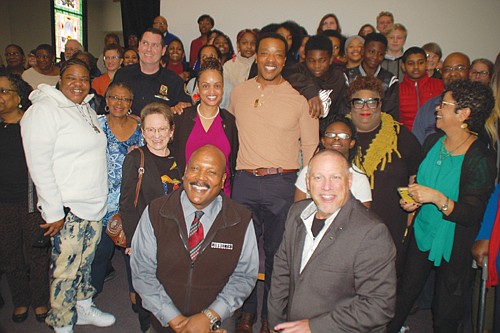 Emotions ran high during a discussion with Portland Police Chief Danielle Outlaw, actor Russell Hornsby, and community members of color at Vancouver Avenue First Baptist Church Friday, following a screening of the critically acclaimed 2018 film "The Hate You Give," which Hornsby co-starred in, and delves deep into themes of officer-involved shooting deaths of black Americans, the Black Lives Matter movement, and the sometimes tense relationship between police and communities of color.
Based on the 2017 young adult novel of the same name, "The Hate You Give" centers on a black youth who must stand up for what's right after she witnesses a childhood friend who is shot and killed by a police officer after a hairbrush he had is mistaken for a weapon.
Speaking about the worry she had about her own eldest child once he got his drivers' license and became more independent, Outlaw recalled speaking with him about the danger he faced in navigating a world wrought with racism and discrimination.
"We still have to recognize and acknowledge that there's bias in the world and we're not always aware of it…we know as Portland Police officers that anything that happens anywhere else in this country impacts us here, in the winds of how we do our jobs here," Chief Outlaw said.
Hornsby and Outlaw are longtime friends, having gone to high school together back in Oakland, Calif.