Shootings Draw Response
Vancouver leaders look for answers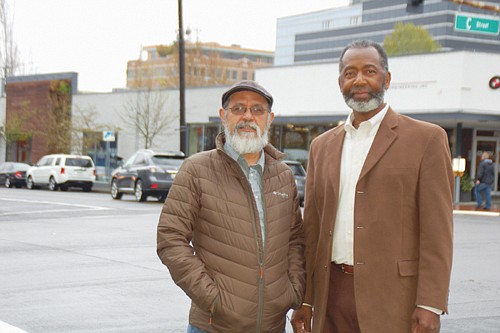 Two southwest Washington civil rights groups are looking for answers after a string of officer-involved shootings in Clark County.
"The last five shootings in Vancouver have involved mostly people of color, and a young white man known to be mentally ill," reads a joint statement written by Lynn Marzette, chair of National Association for the Advancement of Colored People Vancouver's Legal Redress committee, and Hector Hinojosa, who is the president of League of United Latin American Citizens Southwest Washington.
"To ensure the expectation of safety by all citizens of Vancouver, there are still too many unanswered questions regarding the facts and circumstances surrounding each of the shootings and we eagerly await completion and publication of the investigative reports," said the leaders.
Some of the requests made to Clark County Prosecutor Tony Golik includes reports on officer training, where officers work and past complaints against officers. The county's three police agencies: Clark County Sheriff, Battle Ground Police, and Vancouver Police, were also sent letters for detailed information.
There have been five officer involved shootings that have occurred within a four month span since late November. The three most recent—which occurred within just a three week span--were fatal.
That includes the death of Carlos Hunter, 43, a person of color who was fatally shot by two Vancouver Police detectives during a traffic stop on March 7. Hunter was said to have reached for a gun just before the shooting during what was reported to be a drug dealing investigation, according to an investigation by the Regional Major Crimes Team; the shooting by Vancouver police of Michael Pierce, 29, a white man who was homeless and known to suffer from schizophrenia, after he was reportedly pointing gun replicas to passersby and to his own head on Feb. 28; and the shooting by Vancouver police Cpl. Roger Evans of Clayton Joseph, 16, a male of Pacific Island decent who was said to be brandishing a knife and refusing to drop it before he was shot on Feb. 19.
"Notwithstanding the question of whether a shooting can be legally justified, our concern is also whether a culture exists within the police departments within Clark County that influences premature, inappropriate and overly aggressiveness actions through use of deadly force in situations involving minorities and underprivileged citizens," the activists said.
Marzette and Hinojosa also want answers to questions about whether there is sufficient anti-bias and de-escalation training of police officers. Specific questions about the three aforementioned shootings include asking how far away the officers were when they took shots, and whether they tried any non-deadly force options—like rubber bullets, tasers, etc.--before resorting to the use of a gun.
Both Hinojosa and Marzette, who is also a member of the Vancouver Police Chief's Diversity Advisory Team, stressed that they hold no animosity toward local police, but just want more information for clarity and transparency.
"We're not suggesting that Clark County has any mal-intended officers out there acting with evil intent," said Hinojosa, who once opened his home to one of the victims, Pierce, and his then-pregnant girlfriend during a winter when they were homeless a few years ago.