Toran Offers a Plan for Wapato
New proposal for never used jail
A new vision for the never-used Wapato jail been drafted by Volunteers of America. This time the proposal is to create a 100-bed residential treatment program for addiction and mental health services for men and women.
Kay Toran, a long time leader from Portland's African American community, who has directed Volunteers of American Oregon since 1999, is working on securing funding, going back to government agencies and the private sector with pleas to help make that dream a reality.
Jordan Schnitzer, who purchased Wapato after Multnomah County rejected proposals to remake the jail into a homeless shelter because of the cost and distance from other public services, has reached out to Toran in support of making the north Portland site a resource for the VOA's addiction and mental health services.
Dubbed the Community Wellness Center, it would be "a collaboration among treatment providers, social service agencies, hospital care providers and universities to provide holistic services to clients who need support in behavioral health, substance use disorder and issues related to homelessness," according to a one page summary of the proposal.
"I believe our vision is very different. We're not talking about trying to use it for the homeless, we aren't talking about trying to use it for a jail, we are talking about providing a resource to a population that we know have high needs in this community," Toran told the Portland Observer.
The facility would not be exclusively for seniors, as has been previously reported, but all adults 18 and up, Toran clarified, with a special focus on those touched by the criminal justice system. It would be similar to two existing residential centers that VOA operates—one for men and one for women—in Portland.
Schnitzer called the idea "fabulous." He acquired the property last spring and has been exploring the idea of repurposing it for a facility that helps the homeless ever since. He's also considered leveling the site to put up a warehouse for use of his business, Harsch Investment Properties.
If the project doesn't get off the ground soon, Toran believes it would be in jeopardy of never materializing.
According to a summary of the plan, the startup cost includes $16.4 million to repurpose 85,000 square feet of the site, and a yearly operating cost in excess of $18 million. Toran has reached out to Multnomah County and the Oregon Legislature to see if they would have any way of providing some of the cost, but hasn't heard back from them yet. She added that once the government funding is secured, she believes local businesses and philanthropists "would be very responsive to the idea."
"What we have said is that if all of the funding streams were to materialize we would have it fully operable by fall of 2020. So that's a fast pace, but I believe it is doable," Toran said.
The renovations would include partitioning some of the open spaces of the facilities, and making the environment more welcoming, family friendly, and less like a jail, Toran said.
Constructed in 2003 in the far corner of north Portland, the site has never housed a single inmate. Only incidentally has it saw its use for an occasional movie shoot. A 2016 petition to convert the facility to house the homeless drew some support, such as former Multnomah County Commissioner Loretta Smith, but the idea proved unpopular with the other commissioners. In fall 2017, the county sold it to private developer Marty Kehoe for $10.8 million.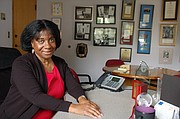 Built by Hoffman Construction, the site already has some amenities that could be used for providing public services, like a medical and dental clinic, and a full kitchen.
Providence Health and Services could possibly co-locate a health clinic there, or set up services for "tele-health," and both University of Portland and Concordia University have expressed interest in extending their respective nursing education programs there, Toran said.
There have also been talks of using it as a general health clinic, in addition to a treatment center, to be used by the estimated 1,700 employees working for different companies in the industrial district of the site's location. Catering for a Cause, VOA's program that teaches job skills through charitable and community catering by enlisting former felons and other people getting back on their feet, could also be expanded there, Toran said.
Toran has known Schnitzer—a prominent philanthropist--for many years, with VOA having given him a DePresit Award for Excellence in 2005. Upon his acceptance of the award, Toran said Schnitzer visited VOA's offices to become more informed of the organization, which in turn, is why he reached out to them for this project, she said.
"I think he has a high level of confidence that if we say something is doable we have reasons to say it," Toran said.