Toran Offers a Plan for Wapato
New proposal for never used jail
Constructed in 2003 in the far corner of north Portland, the site has never housed a single inmate. Only incidentally has it saw its use for an occasional movie shoot. A 2016 petition to convert the facility to house the homeless drew some support, such as former Multnomah County Commissioner Loretta Smith, but the idea proved unpopular with the other commissioners. In fall 2017, the county sold it to private developer Marty Kehoe for $10.8 million.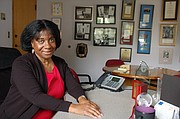 Built by Hoffman Construction, the site already has some amenities that could be used for providing public services, like a medical and dental clinic, and a full kitchen.
Providence Health and Services could possibly co-locate a health clinic there, or set up services for "tele-health," and both University of Portland and Concordia University have expressed interest in extending their respective nursing education programs there, Toran said.
There have also been talks of using it as a general health clinic, in addition to a treatment center, to be used by the estimated 1,700 employees working for different companies in the industrial district of the site's location. Catering for a Cause, VOA's program that teaches job skills through charitable and community catering by enlisting former felons and other people getting back on their feet, could also be expanded there, Toran said.
Toran has known Schnitzer—a prominent philanthropist--for many years, with VOA having given him a DePresit Award for Excellence in 2005. Upon his acceptance of the award, Toran said Schnitzer visited VOA's offices to become more informed of the organization, which in turn, is why he reached out to them for this project, she said.
"I think he has a high level of confidence that if we say something is doable we have reasons to say it," Toran said.