Earth Day Pledge
Commissioner challenges fossil fuel industry
4/23/2019, 3:52 p.m.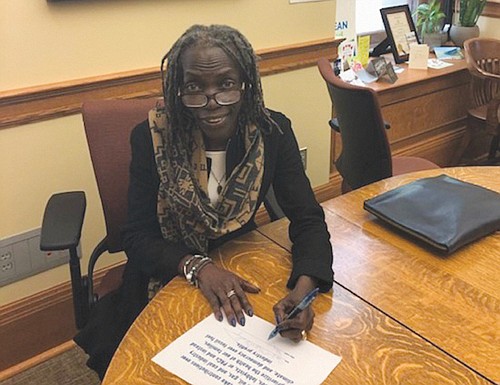 One day after protesters in Portland planted a "Victory Garden" along Northwest Front Avenue and partially blocked a train track to protest Alberta tar sands oil shipments to Portland's Zenith Energy terminal, Portland City Commissioner Jo Ann Hardesty issued a challenge to advance the environmental concerns about pollution from fossil fuels.
Hardesy says she will not knowingly accept any future campaign contribution of over $200 from Political Action Committees or front groups of fossil fuel companies amidst the climate protests and calls for action locally and internationally. In addition, she says she will not take any money from these groups, according to her statement, issued on Earth Day.
"We need a city where every voice matters. Where our democracy works for everyone and our government listens to all of us. Fossil fuel money corrupts that and elevates the voices of dirty energy at the expense of people's health, the climate, and our democracy, something I will always reject," Hardesty said.
Hardesty previously championed the Portland Clean Energy Fund, a city ballot measure that voters passed last fall that is anticipated to bring in $54 million to $71 million in new revenue aimed at generating green jobs and environmental home improvements.
She also spoke with youth at the Youth Climate Protest in front of City Hall last month and more recently supported earlier protests at the Zenith Oil terminal.