Running for PCC Board
Tiffani Penson connects to community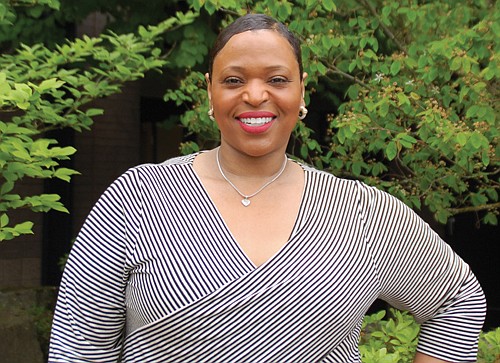 Tiffani Penson, a longtime Portland city worker, education advocate, and community volunteer, is vying for the Portland Community College Board of Directors for Zone 2, the district that encompasses the parts of north and northeast Portland that she grew up in, for the May 21 election.
"I understand community and the importance of it. I understand you have to invest in the people in your community because if you don't, then you won't have a thriving community," Penson told the Portland Observer.
Penson began working on education issues working for former Mayor Sam Adams back in 2009, where she helped build that office's SummerWorks program—a publicly funded paid internship program for diverse young adults ages 16-24—and has been overseeing that program in conjunction with Multnomah County and the subsequent mayors offices ever since.
As part of Mayor Adams' education team, she helped develop a program called Future Connect, which provides a small scholarship and support for post-secondary students who identify as first-generation or low –income, currently housed at PCC.
As a Supplier Diversity Officer, Penson works with minority, women, and emerging small businesses to connect them with contracting opportunities for the city, a skill set she said would be valuable as a board member at PCC, where she hopes to expand programs for those types of businesses to help them grow.
She also wants to use those business partnerships to help transition youth into high paying trade jobs and for women returning to the workforce. Penson also expressed the desire to foster businesses' investment to the college, reckoning that it would be a simple way for them to invest in the replenishment of their workforce and bolster the programming at the same time.
"If you invest, you see the fruits, and the fruits serve everyone," she said.
Penson has worked to understand some of the issues impacting PCC by attending a PCC board meeting and has taken occasional classes at PCC, though her alma maters include Concordia University and University of Oregon. She speaks once per quarter at PCC for a business administration class.
Penson expressed much admiration for Oregon's largest community college, which started as an adult education program in 1961. She said schools like PCC, which offer a mix of academic programs, certifications, and training in the trades is valuable for some of the most vulnerable populations in the community--like those who face economic, cultural, and learning challenges--who might not otherwise get a chance to receive further education.
"PCC provides that opportunity for them to go there, they have supports to make sure that they're successful and I like that. And those are the things that I want to expand on because I think it's critically important to make sure you provide the necessary supports for students that have facing barriers to be successful," Penson said.
Expanding on the college's wrap around services, like making sure students are fed and can afford transportation, was also listed as a high priority for Penson.
In addition to her work at the city, Penson currently sits on the board of KairosPDX, a public charter grade school that is focused on closing the achievement gap for African American students in north and northeast Portland. She also sits on the board of Oregon Native American Chamber, the Architecture Foundation of Oregon, and Bound for a Cure.
Penson has gotten the endorsements of Mayor Ted Wheeler, City Commissioner Amanda Fritz, former City Commissioner Dan Saltzman, former Mayors Sam Adams and Tom Potter--who she also worked for, State Sen. Lew Frederick, retired State Sen. Avel Gordly, and KairosPDX Executive Director and current PCC Board Chair Kali Thorne Ladd, who would be Penson's predecessor for the Zone 2 chair.

Speaking as to what motivates her to run for the PCC Board, Penson said she feels an obligation to serve others and get more young people enrolled in college, having come from an upbringing that provided her opportunities for success, such as being able to attend both private and public schools as a young African American woman.
"I feel like it's only important that I do what I can to make sure that others have that opportunity and access. And I love this place, I mean, I'll die here. It's not all perfect, but it's my home," she said.
Penson invites you to check out her website for more information about her background and goals for office at tiffanipensonforpcc.com. She has drawn one opponent in the election, Portland State University senior and former PCC student, Leonardo Kendall.