Setting Up Shop
Three black businesses moving to Alberta Commons
4/24/2019, 9:54 a.m.
Three successful, established black entrepreneurs are relocating their businesses to Alberta Commons, the new retail block located on the corner of Northeast Martin Luther King Jr. Boulevard and Alberta Street.
Together, the business owners decided to open their doors on the same block in the heart of Portland's historic African American community –what they call "Dream Street."
Cason's Fine Meats, Champions Barbershop and greenHAUS gallery are all family-owned, family-friendly businesses. The owners––Theotis "Uncle Theo" Cason, Jamaal Lane, and Cole and Dayna Reed––offer different products and services, yet they all value the importance of cultivating community.
Champions Barbershop opened in their new location this month, greenHAUS gallery is slated to open in May, and Cason's Fine Meats will open in June. A grand opening celebration for Alberta Commons as a whole is planned for Saturday, June 22.
Prosper Portland, the city of Portland's renamed economic and urban development agency, developed an Affordable Commercial Tenanting Program to support minority and women entrepreneurs at the site. Other current tenants of the shopping district include Natural Grocers and Wingstop.
The Portland neighborhood became a center of African American life largely due to redlining real estate policies in the early 20th century, then was negatively impacted by urban planning in the 1950s and '60s, and was gentrified by builders and new renters and home buyers in the 2000s.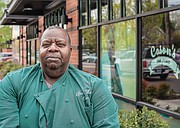 The transformation of the neighborhood has been difficult on its residents—the once-majority black neighborhood is now only 14 percent African American. According to a Portland State University study, more than 10,000 black community members have left inner city neighborhoods over the past two decades, largely due to the increase in housing prices.
"This is a momentous time for our community. The relocation of my butcher shop, as well as the relocation of Champions Barbershop and greenHAUS gallery is our effort to collectively replant our roots on MLK," said Cason, who was born and raised in northeast Portland. "It is time for us to celebrate our return to the heart of the neighborhood."
"These business owners have chosen to locate their businesses in the Alberta neighborhood which has changed dramatically over the years," added Roslyn Hill, who was born in Vanport, has owned businesses in the Alberta Arts District and is known as "The Queen of Alberta." "It is not enough to just believe in our community, it needs to be supported, physically, economically and culturally. Together, we can support Alberta Commons as a community, a place of gathering."
A legendary Portland institution, Cason's Fine Meats was founded in 1975 as a family-owned, first-generation company, and has transitioned through five different storefronts over its lifetime. Champions Barbershop is a community barbershop that offers a haven where people can experience grooming from highly skilled professionals who are passionate about their craft and understand the legacy it holds. GreenHAUS gallery is an art gallery and boutique with artisan-crafted goods and gifts, alongside industrial salvage and vintage goods.
Not only are these business owners successful, they all understand the role they play in lifting up other members of their community and inspiring them to recognize and pursue their dreams.
Uncle Theo Cason mentors youth in the community, training and developing them as future butchers. Jamaal Lane and his wife, Christina Lane, opened the Champions Barbering Institute with a mission to serve as mentors to the community, teaching them about professionalism, customer service, cultivating relationships and hard work. Cason and Jamaal Lane both grew up in northeast Portland. Cole and Dayna Reed actively promote women, and artisans and business owners of color at their gallery.