31 Dead, 2 US Shootings, 1 Tie to Hate
President condemns white supremacy, but not guns, in response
8/7/2019, 9:48 a.m.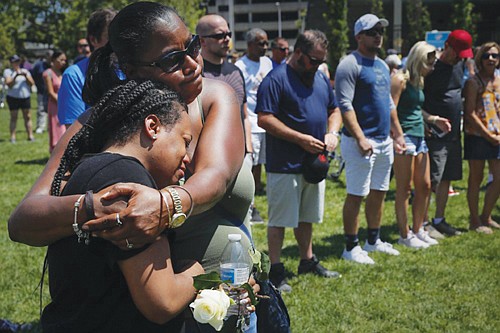 Two shooting sprees that amassed 31 deaths, dozens injured by Tuesday's count and occurred less than 24 hours apart over the weekend—one in El Paso, Texas, that authorities said appears to be a racially motivated hate crime on Saturday—and one in Dayton, Ohio on Sunday.
Officers gunned down the Ohio shooter at the doorstep of a bar-turned-hiding place in the middle of Dayton's nightclub district and arrested the El Paso shooter as hundreds fled a crowded shopping center. Though the two attacks staggered a nation accustomed to gun violence, the bigger shock may have been that the death toll wasn't worse.
In the Texas border city of El Paso, a gunman opened fire Saturday morning in a Walmart shopping area packed with thousands of people during the busy back-to-school season. The attack killed 22 and wounded more than two dozen, many of them critically. One of those killed died early Monday at a hospital. Hours later in Dayton, Ohio, a gunman wearing body armor and carrying extra magazines opened fire in a popular nightlife area, killing nine and wounding more than two dozen people.
The El Paso shooting was being investigated by law enforcement as a possible hate crime and the FBI has looked into the case as a potential domestic terrorism incident. The agency hasn't found evidence that the mass shooting in Dayton was racially motivated as of Tuesday, but it is examining the violent ideology the suspect has expressed in the past.
In response to the violence, President Donald Trump on Monday condemned the weekend shootings as barbaric crimes "against all humanity."
"In one voice, our nation must condemn racism, bigotry and white supremacy," Trump said, adding that he had directed the FBI to examine steps to identify and address domestic terrorism.
Authorities worked to confirm whether a racist screed posted online shortly beforehand was written by the man arrested in El Paso, a post that mirrored some of Trump's anti-immigrant rhetoric. The border city is home to 680,000 people, many of them Latino.
Some, like Ernesto Carrillo, whose brother-in-law Ivan Morena was killed in the Walmart attack, said the president shares blame for inflammatory language Carrillo called a "campaign of terror."
El Paso authorities offered few details about the assault, but Police Chief Greg Allen described the scene as "horrific" and said many of the 26 people who were hurt had life-threatening injuries.
In Dayton, the bloodshed was likely limited by the swift police response. Officers patrolling the area took just 30 seconds to stop the shooting, which unfolded around 1 a.m. on the streets of the downtown Oregon District, Mayor Nan Whaley said.
Video released by police shows 24-year-old Connor Betts being shot down by officers, just steps away from entering a bar filled with hiding patrons.
Had police not responded so quickly, "hundreds of people in the Oregon District could be dead today," Whaley said.
Betts' 22-year-old sister, Megan Betts, was among those killed in Dayton.
Authorities identified the El Paso suspect as 21-year-old Patrick Crusius from Allen, a Dallas suburb which is a nearly 10-hour drive from El Paso.