31 Dead, 2 US Shootings, 1 Tie to Hate
President condemns white supremacy, but not guns, in response
8/7/2019, 9:48 a.m.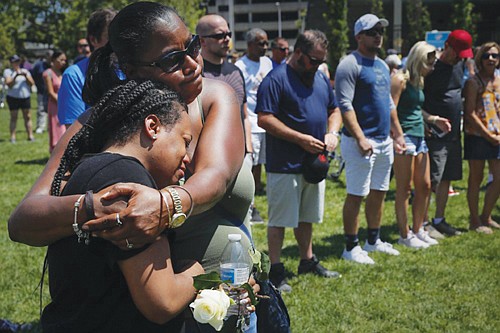 El Paso Mayor Dee Margo said he knew the shooter was not from his city.
"It's not what we're about," the mayor said at a news conference with Gov. Greg Abbott and the police chief.
President Donald Trump tweeted Monday that Washington "must come together" in the wake of the shootings "to get strong background checks" for gun users. But he provided no details on what sort of legislation he would support.
The Democrat-led House has passed a gun control bill that includes fixes to the nation's firearm background check system, but it has languished in the GOP-controlled Senate.
Trump suggested Monday that a background check bill could be paired with his long-sought effort to toughen the nation's immigration system, though he didn't say how. He has reneged on previous pledges to strengthen gun laws.
Trump signaled he would oppose large-scale gun control efforts pushed by Democrats, saying, "mental illness and hatred pulls the trigger, not the gun." He also proposed passing bipartisan "red flag laws" and to stop the glorification of violence through video games.
Democratic presidential candidate and former Texas congressman Beto O'Rourke, who is from El Paso and was at a candidate forum Saturday in Las Vegas, appeared shaken after receiving news of the shooting in his hometown.
He said he heard early reports that the shooter might have had a military-style weapon, saying we need to "keep that (expletive) on the battlefield. Do not bring it into our communities."
The shootings were the 21st and 22nd mass killings of 2019 in the U.S., according to the AP/USA Today/Northeastern University mass murder database that tracks homicides where four or more people killed — not including the offender and came less than a week after a 19-year-old gunman killed three people and injured 13 others at the popular Gilroy Garlic Festival in California before dying of a self-inflicted gunshot wound.
A link to right-wing extremism was found for every extremist killing in the US in 2018, according to a January 2019 report from the Anti-Defamation League's Center on Extremism, Business Insider reported.
--Associated Press contributed to this article.