Altered Mug Shot before Judge
Police accused of trying to 'rig the outcome'
8/21/2019, 9:30 a.m.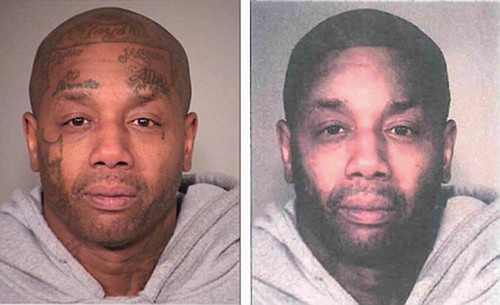 A federal court is weighing whether eye witness accounts to a bank heist case should be thrown out due to the manipulation of a photo from a lineup of suspects in which police used Photoshop to remove facial tattoos on a black suspect, a move the defense attorney said was an attempt to "rig the outcome" of a prosecution.
Tyrone Lamont Allen has unmistakable tattoos on his forehead and right cheek, and though police suspected Allen of being involved in four bank and credit union heists, none of the tellers said the man who robbed them had tattoos on his face.
The digitally altered photo of Allen without the tattoos was presented by police to the bank tellers for identification with the photos of five other, similar looking men. The witnesses were not told about the photo adjustment made, but some of them picked out Allen nevertheless.
Jules Epstein, a law professor at Temple University and leading national authority on eyewitness testimony said in his 40 years as a lawyer and law professor, he had never seen such a blatantly suggestive example of a photo lineup, a standard law enforcement tool that is under ongoing scrutiny.
Epstein also said police were "increasing the risk of mistaken identity" by their actions.
Allen's defense attorney Mark Ahlemeyer argued that the judge should throw out the positive witness identification of his client, claiming police altered the photo to remove the facial tattoos so Allen could more closely resemble surveillance images and eyewitness descriptions of the thief.
A still image from bank surveillance footage shows the suspect in question wearing a baseball cap and black-rimmed glasses, but no facial tattoos.
Assistant U.S. Attorney Paul Maloney argued the photo manipulation was done "to make Mr. Allen blend in—so his photo wouldn't stand out," adding police's actions were "prudent" and "appropriate."
Detective Brett Hawkinson was the officer who gave the orders to remove the tattoos in the image and he testified such action is considered "standard practice among investigators," though no protocols exist to instruct Portland police to alter photographs and no documentation of the alteration was recorded, beyond the photo itself. He added that Allen could have used makeup to cover the tattoos in the commission of a crime.
Portland police's failure to document the photo changes and reasons for doing so goes against federal guidelines when it comes to adopted standard protocols of how to handle photo arrays to lower the chance of influencing a witness, even unintentionally, the Oregonian reported.
U.S. District Judge Marco A Hernandez said he plans to issue a written ruling soon, which could set a precedent on police practices for future cases in Oregon and the beyond.