Taking Aim at Gun Violence
Origami boxes represent the toll of lives lost
8/21/2019, noon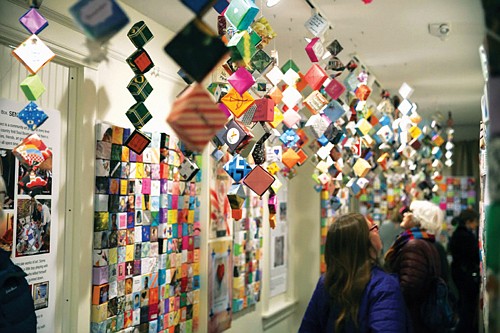 The Soul Box Project is a national community art project created by a Portland studio artist to raise the awareness to the epidemic of gun violence. In the tradition of the AIDS Memorial Quilt, the project is collecting one handmade origami box for every person killed or injured by gunfire in the US since 2014.
Displayed in public spaces to draw attention to the number of people shot in gun violence, accidents, defense and suicides, the Soul Box Project has collected more than 50,000 3-x3-inch origami boxes from across the country to date. Each box represents one life, one soul gunned down.
Leslie Lee, founder of the Soul Box Project, believes that when people come face to face with thousands and thousands of boxes representing victims, they'll understand the enormity of the gunfire epidemic and be inspired to take action, from enrolling in gun handling classes to securing firearms, to working towards gun-sense legislation.
Currently, the public is invited to take a look at a Soul Box exhibit now showing through the month of August at Milwaukie City Hall, 10722 S.E. Main St. Soul Box project volunteers have spent the summer doing outreach and area residents have created hundreds of boxes for the project. Earlier this year, a soul box display was presented in northeast Portland.
The goal is to take at least 200,000 Soul Boxes to the National Mall in Washington, D.C. next year, during the election year 2020.
"Soul Boxes can be made for any person killed or injured by gunfire. It can be healing for anyone experiencing this loss. No matter how or why a person is shot, people grieve." says Lee. "The collective spirit of people coming together to take action, to remember and to heal continues to inspire me."