Booker Campaigns in Portland
Says Oregon can be a key to his presidential campaign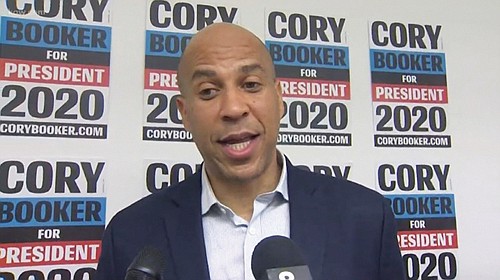 As he continues his long-shot bid in the Democrat presidential race, Sen. Cory Booker came to Portland Sunday and hinted that that Oregon would be more of a player in this year's national race. Booker said the lengthy primary season gives a more weight to states like Oregon and his own state of New Jersey, which have later primaries, and that might help tip the scales.
According to KGW, Booker's fundraiser at the Riveter in southeast Portland was all but sold out, and in his speech, as he addressed homelessness, he recalled his own family's struggles with racism when they tried to buy a home. But he says he has a plan -- using a new kind of tax credit -- to help prevent homelessness. The government should also put more money toward solving problems of homeless veterans and people with special needs, he said.
Housing security has always been his concern, and Booker, 50, even started a non-profit right after law school to provide legal services for low-income families. That gives him a unique perspective, he said.
"As a guy who's been dealing with this issue, who started his career as a housing rights lawyer, this is something I know distinguishes me in the field," Booker said.
Booker's recent tour began Aug. 21 in New Jersey, with several stops in the Los Angeles and San Francisco areas and culminating with the Portland reception.