Inferno Erupts from Dry Grass
Smoke, flames damage nearby homes, businesses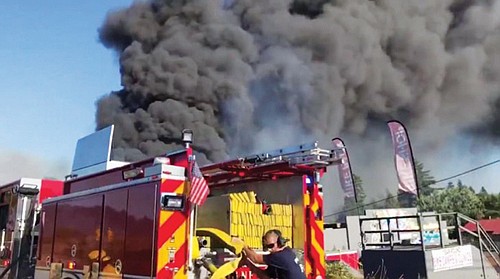 A fire that erupted in dry grass late Monday afternoon at an abandoned golf driving range on Northeast 82nd Avenue across from Madison High School was intentionally set, fire investigators determined Tuesday.
The inferno spread flames to homes and businesses in the Rocky Butte area of northeast Portland, destroying two commercial buildings and a townhouse and damaging at least three other townhomes.
The Portland Fire Bureau said they know the fire was started by a person, but they are still investigating whether it was malicious.
When the fire broke out about 5:20 p.m. Monday a think column of smoke bellowed throughout the area and could be seen for miles. It soon registered four alarms. About 120 firefighters led by Portland Fire and Rescue fought back the flames.
Dozens of people had to evacuate their residences and homes not impacted nearby were told to keep their windows and doors closed to keep dangerous smoke at bay. Grand Avenue Boxing Club owner Waldo Rojas believed his gym had burned, and by Tuesday morning learned that much of the structure was still intact but suffered some smoke and water damage, along with nearby bike park.
The cause of the fire was not known and under investigation. Neighbors reported hearing explosions during the fire, but officials said the sounds could have been from burning tires exploding. 50 cars in a storage lot caught fire and were destroyed.
The Red Cross set up a disaster center at Mannahouse Church in northeast Portland to give people a place to evacuate from the flames and get water.
Tuesday, the Portland area continued to be under an extreme Red Flag fire danger warning, combined with an extreme heat advisory, prime conditions for fire to spread quickly. Temperatures were expected to reach in the high 90s through Wednesday before moderating to the 80s later in the week.
Editor's note: This story was updated to show the Grand Avenue Boxing Club was damaged from the fire, but remained intact and should be able to reopen in the future, club official said.