Volunteers help residents stay housed
Community outreach tackles housing crisis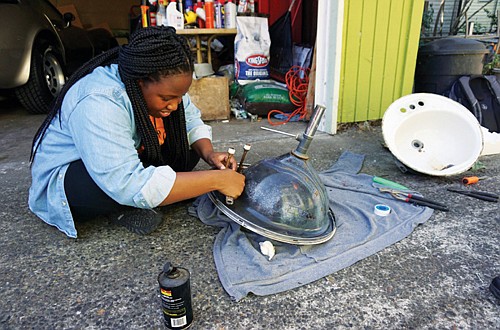 The ReBuilding Center teamed up with the AfricanAmerican Alliance for Home Ownership Saturday to tackle the housing crisis by providing home repairs for low-income and struggling long-time homeowners in Portland who may be in danger of losing their homes because of maintenance issues that risk code violations.
The 2019 Day of Service provided home repairs for nine homeowners in north and northeast Portland as ReBuilding Center staff members and community volunteers teamed up to carry out exterior and interior painting, yard clean-up, bathroom overhauls and repairs, electrical upgrades, and much more. The projects included fence, porch, and stair repairs, sink and lighting replacements, appliance installation, replacing interior doors and windows screens, and yard work.
Alexandra Ferrara of the nonprofit ReBuilding Center said this was the second year, for example, that Charlene, a north Portland resident of more than 44 years, got some needed help with her home repairs
The homeowner reflected on how the changing neighborhood has affected her life.
"I can't afford to stay and I can't afford to leave. I am stuck, but I am very appreciative of the work the Day of Service provides. It makes it easier to stay," she said.
According to Ferrara, the Day of Service was also very helpful to Robert, who grew up in the Boise neighborhood and has been in his home for 33 years but was unable to make many of his own repairs anymore. Much of his home is now outfitted with ReBuilding Center materials to keep his home viable.