Dispelling Misconceptions
African and African American experiences explored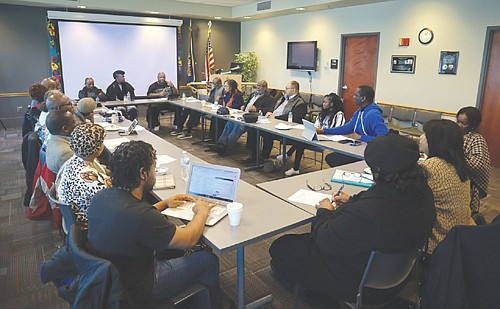 When Rev. Hilary Gbotoe moved here from Liberia in 2003, he would only let his children have white friends because of the stereotypes he had learned about African Americans.
"I was told when I came here not to engage with black people, they will bring you down and your children will become gang members," he said.
It was only after Gbotoe (pronounced BOW-TOW) came to befriend some African Americans in Portland that he understood his perceptions were misguided.
That growing awareness of the differences within the African and African American communities led Gbotoe and other black leaders in Portland to start a series of discussions leading to a major summit later this month, called the African and African-American Summit Bridge.
The event will be held from 6:30 p.m. to 9 p.m. on Friday, Dec. 13; and from 9 a.m. to 5 p.m. on Saturday, Dec. 14 at Moriarty Arts & Humanities Building on the Cascade Campus of Portland Community College, 705 N. Killingsworth St. There is no charge for the summit, but donations will be accepted. Attendees can register online at bethebridge.urcraft.net.
The summit will start out with song and dance music that will tell the stories of both the African and African American experience, said Levell Thomas, who is working with Gbotoe and Rev. Cliff Chappell to publicize the event, presented by REAP, Inc. and Africa House in partnership with The Bridge.
"It's the journey," he said. "We all recognize that we come from the same place – Africa – so the journey begins with the sounds of Africa with music by different groups with African drums and African bands."
Thomas is also preparing a video presentation of the journey, he said, "that shows all the experiences we've had – colonization, slavery – and our experiences to try to be free with our own rights."
There will also be presentations of the history of blacks in Oregon, "from Vanport and beyond," Thomas said.
At the day-long event on Saturday, the sounds of Africa will again welcome attendees before a day of seminars and speakers on a wide variety of topics relating to the black experience, Thomas said.
"There will be (morning) seminars on PTSD, misconceptions among Africans and African Americans, how religion was used to divide us as a people, and more," he said. After a "Taste of the World" lunch, afternoon seminars include topics such as fathers in the home, self-love, building bridges: working together intentionally, and economic empowerment.
Many prominent members of the black community will also speak during the event, including Nkenge Harmon-Johnson of the Urban League of Portland, Ron Herndon of Albina Head Start, Djimet Dogo of Africa House, Dr. Alisha Moreland-Capuia and Daniel Capuia of the Capuia Foundation and Dr. Koffi Dessou, City of Portland Office of Equity and Human Rights, and Imam Mikal Hammad Shabazz of the Oregon Islamic Chaplains Organization.
The day will end with a healing session, Thomas said, "on what was learned in the two days along with a declaration of how we build going forward – a time to hear one another out, and to heal and move forward."