Stepping Up for the Homeless
Community responds to need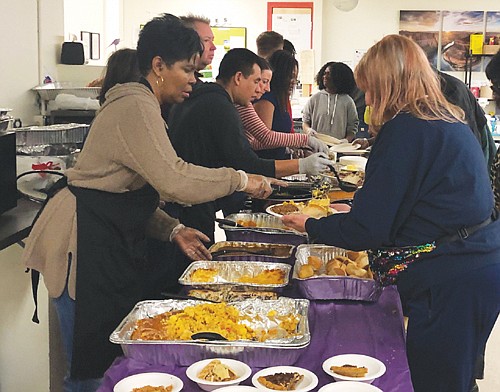 After a story appeared in the Portland Observer that there would be no Thanksgiving dinner served at the Walnut Park homeless shelter on Thanksgiving Day, about 30 people contacted Bora Harris, community liaison for the shelter, and put on a spread that was more than enough to feed scores of people a traditional meal.
"I had about 30 people that contacted me and about 18 who served," Harris said. "We put together a menu and delegated what everybody would bring. Our goal was to get people to respond and spread the word."
It obviously worked, to everyone's delight, and there was more than enough food to go around.
"They could have as many servings as they wanted and we had food left over and to make sandwiches the next day," Harris said.
The shelter at Northeast Martin Luther King Jr. Boulevard and Killlingsworth is run by Transition Projects and was only one of two of their shelters that did not have a meal scheduled to be served on Thanksgiving Day. But thanks to the added effort, shelter residents got two Thanksgiving meals in one week. On Monday, a Thanksgiving meal was also delivered to shelter residents by the Daniels Memorial Church of God in Christ.