Black Experience on Canvas
On display at Disjecta Contemporary Art Center
12/4/2019, 12:30 p.m.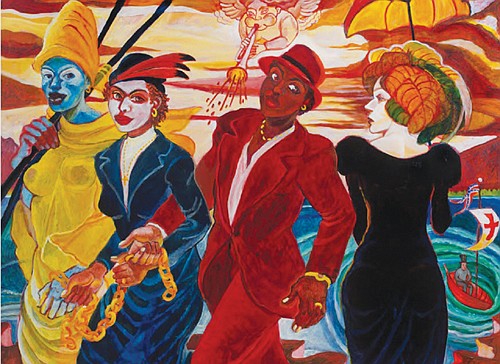 The Disjecta Contemporary Art Center, 8371 N. Interstate Ave., presents "2 Up and 2 Back," a solo exhibition of new work by Arvie Smith, a renowned painter of the black experience.
Smith takes messages from public discourse, advertising, news media, pop culture and daily micro assaults on marginalized people and groups, to deliver two dimensional master works.
The pieces reveal the normalized and seemingly accepted inequities born out of privilege that are designed to interfere with truth, advancement and release from the chains of a dominant hierarchy based on skin tone.
Curated by Linda Tesner of the Jordan D. Schnitzer Museum of Art at Portland State University, '2 Up and 2 Black' shows through Feb. 2, open weekends, Friday through Sunday, from 12 p.m. to 5 p.m.