Ducks Head Back to Rose Bowl
Pac10 champions will face Wisconsin
12/10/2019, 4:09 p.m.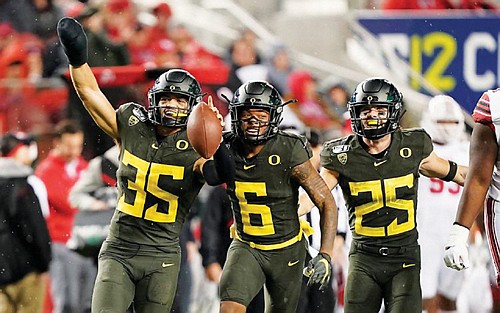 The Oregon Ducks won the Pac-12 title for the first time in five years Friday, and will be back in Pasadena, Calif. for the Rose Bowl, the first time since the 2014 season, when Marcus Mariota propelled Oregon to a 59-20 thrashing of Florida State and a subsequent spot in the national championship game.
Oregon will face Wisconsin in the 106th edition of the title game on New Year's Day. It will be a rematch of the 2012 Rose Bowl, in which Oregon beat Wisconsin 45-38 in one of the highest-scoring editions of the game.
Wisconsin edged out Penn State to advance this year despite the Badgers' 34-21 loss to Ohio State in the conference title game. Oregon reached the Rose Bowl with a 37-15 victory against Utah.