Gun Control Petition Recharged
New effort to ban assault style rifles and large ammo clips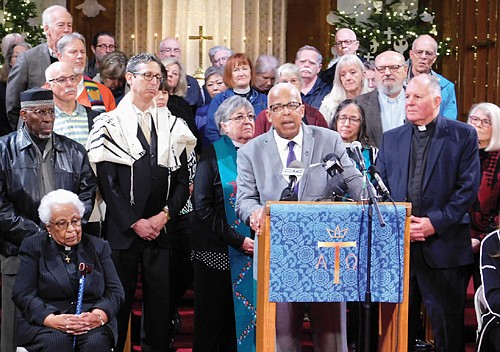 A local nondenominational group of religious leaders announced on Monday they are starting a new petition drive to get a gun control initiative on the November ballot. The petition will call for restrictions on the sale of certain semi-automatic guns and large capacity ammunition magazines.
A similar effort failed last year because legal maneuvers by opponents to gun control left insufficient time to gather signatures.
Supporters behind the new Lift Every Voice Oregon Interfaith Movement petition met at Augustana Lutheran Church, a diverse congregation in northeast Portland, where about 50 people heard religious leaders from many different faiths call for action to contain gun violence in Oregon and across America.
Rev. W.J. Mark Knutson, senior pastor at Augustana Lutheran, said he doesn't expect the new petition to be derailed this time, saying that he and others have been working nonstop for more than a year to overcome obstacles, including in the Oregon Legislature.
"We have trained over 1,000 people to get the petition signed," he said. "We met every two weeks and took two bills to the House, but neither was acted on. But we did not stop. We worked with other groups in the state, students in particular."
The petition has been submitted to the Oregon Secretary of State, Knutson said, and once it is accepted, volunteers all over the state are ready to start collecting signatures.
Knutson spoke about the escalation of fear that deadly violence has on society, from the Cold War drills of yesteryear preparing for possible nuclear annihilation, to the gun violence of today that has impacted so many schools and institutions.
"We grew up with drop and cover," Knutson said, "but today we have five year olds learning gun drills before they can read or spell."
It is fitting that religious leaders take the charge to end gun violence, added Rabbi Michael Cahana of Congregation Beth Israel at the press conference.
"This is a place for religious passion, to recognize that we represent many different traditions, but it's time to beat swords into plowshares so we will not have weapons of war so readily available on our streets," Cahana said. "We will not stand idly by while our neighbor bleeds."
Rev. Lynn Smouse-Lopez of Ainsworth United Church of Christ also spoke, making reference to the season of Christmas to call on her fellow Christians to support gun control.
"This is the time we prepare and make room for Jesus in our lives, a time when we step up and claim peace," she said. "How can we let this gun violence continue? We need to step up, step out and proclaim peace … to save our children."
Other religious leaders supporting the initiative included Rev. Alcena Boozer, pastor emeritus of St. Philip the Deacon Episcopal Church and a former Jefferson High School principal; and Imam Muhammad Najieb, director of the Muslim Community Center of Portland.
Liz McKanna of the Lift Every Voice legislative team said the petition will focus on closing a loophole in Oregon law that allows a person applying for a background check to go ahead and buy the gun if the background check doesn't come through within three days.
"If it doesn't go through in three days, the dealer can sell you the weapon," she said. "We want to make sure people can pass background checks."
Other elements of the petition include requiring a five-day waiting period, age restrictions for gun purchases and restrictions on manufacture and sales of some semi-automatic firearms. The petition will be available for viewing once it has been filed with the Secretary of State, Knutson said.