Nonprofit Discounts 20 New Homes
New construction priced below market rate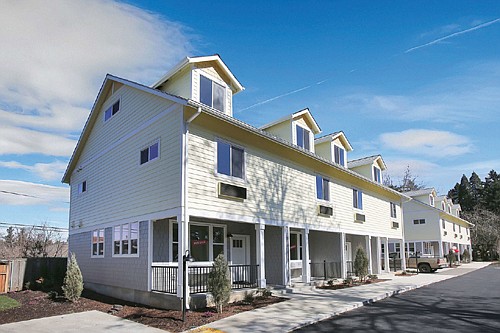 A Portland nonprofit founded in 2014 by leadership in Portland's African American community to help improve the quality of life for low-income urban families, is living up to its promise. The National Urban Housing & Economic Community Development Corporation (NUHECDC) is offering 20 new homes for sale in east Portland at affordable prices.
Dalton Sheppard, assistant director of the nonprofit, said the homes, called Brunswick Commons, are "new, affordably priced and move-in ready."
Located near Northeast 109th Avenue and East Burnside Street, Brunswick Commons homes come in four designs with open floor plans and various sizes, ranging from 1,200 to 1,453 square feet.
"These aren't your typical affordable one-bedroom or studio cubby-holes," Sheppard said. "They are family-sized condominiums with three bedrooms, two-and-a-half bathrooms, and plenty of storage space."
The biggest hurdle to home ownership is coming up with a down payment, Sheppard said, so his group is working with the Portland Housing Center to offer $20,000 Neighborhood Lift down payment assistance grants. An additional $2,500 is available for teachers, veterans and emergency responders, he added.
People who qualify to buy a Brunswick Commons home are also eligible for a 10-year property abatement, Sheppard said.
"This greatly reduces property tax to, say, $600 instead of $3,000," he said.
In addition to improving lives by provided paths to affordable housing, the nonprofit provides programs for career skills training, living wage jobs, and small business development.
To learn more about the National Urban Housing & Economic Community Development agency and the homes at Brunswick Commons, log onto NUHECDC.org or call 503-477-7387.