Street Banners Honor History, Culture
New public art project introduced
12/18/2019, 11:01 a.m.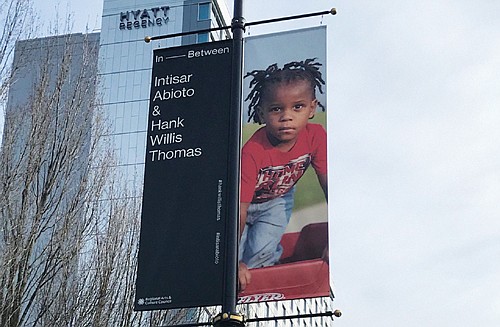 A new temporary public art project by two noted black artists has been installed along the median strip on Northeast Holladay Street in the vicinity of the Oregon Convention Center and the new Hyatt Hotel between Martin Luther King Junior Boulevard and the Rose Quarter.
As part of a new series called In—Between, the Regional Arts & Culture Council invited Portland-based artist Intisar Abioto and Brooklyn-based artist Hank Willis Thomas to create 10 banners, each 10 feet tall, featuring the artists' words and images. The banners will appear through May 31.
Funding comes from the city's Percent-for-Art ordinance, which sets aside two percent of the construction costs for Prosper Portland's new parking garage to create public art.
"Art teaches us about ourselves and our community, and we are proud to play a role in honoring the history and culture of the neighborhood through this work," said Kimberly Branam, executive director of Prosper Portland, the city's economic development agency.
The pilot exhibition features both internationally acclaimed multi-disciplinary artist Hank William Thomas, whose first major retrospective of his work is currently on view at the Portland Art Museum through Jan. 12, and Portland-based artist and storyteller Intisar Abioto, a Memphis native who moved to Portland nine years ago with her mother and sisters, and has since gained recognition for her photography and her blog, The Black Portlanders.