Transit Riders Organize
Ad hoc 'rider advocates' push TriMet to act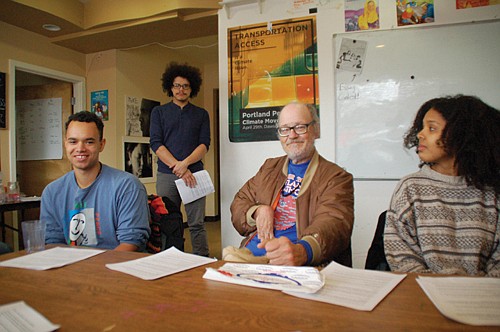 Last year, a ruling in State v. Valderrama determined that an incident involving Portland police officers doing a fare check of a TriMet passenger and public official, Ana del Rocio, was unconstitutional. That incident, which started as a fare evasion encounter from a TriMet officer in March, resulted in del Rocio's temporary arrest. Fleek said that case is a great example of why TriMet should seek to have a more customer service, rather than public policing, focus.
"I ride the bus every single day. And I feel less safe now then when I did on the transit system before, not because I'm worried a white supremacist is going to stab me […] I'm scared because I see police officers on the bus with guns all the time. In no way does that calm me or make me feel like I'm a safer person," Fleek said.
Through those community forums, it was brought to the attention of OPAL the existence of a former Rider Advocate program for public transport in Portland from 1994-2009. The program was run by the Northeast Coalition of Neighborhoods and funded through a contract with TriMet. The year it was cut, the Rider Advocate program was the recipient of the City of Portland's Public Safety Partner Award for creating what the City called "a safer environment for all who ride TriMet by using conflict resolution skills and de-escalation techniques."
Trimet's Altstadt said the previous Rider Advocate program saw "limited success" and was cut due to budget shortfalls, the qualifications of the advocates, and some of the intervention methods they used.
Altstadt said that TriMet tries to makes sure their own staff and contracted security personnel are trained in "conflict avoidance, that they pass all safe certification that is needed ,and to make sure that there's accountability for any issues that would rise up."
"We cannot speak to the training of third-party 'rider advocates' or the accuracy of the information they provide," Altstadt said, adding that any customers who have questions about their services should contact Trimet customer service at 503-238-7433.
OPAL was able to test the waters with their version of the citizen-led advocate program thanks in part to a $17,500 city grant they received last year, which helped them pay for things like training and bus passes for the volunteers. The revived, and unofficial, rider advocate effort is also endorsed by the bus driver's union, Amalgamated Transit Union Local 757.
It's OPAL's aspiration that TriMet officially take on the program once again, and add an official Rider Advocate program back into their budget.
There are about 25 of the volunteer advocates in the meantime who have gone out at least once, and a core group of about 10 who have gone out multiple times on buses and MAX Lines, Fleek said. The program had been building since the middle of last year, with volunteers first coming onto the buses as rider advocates this past October, after receiving training, he added.
Another component of the OPAL's pilot program is for volunteers to carry TriMet tickets with them, to be used as a resolution to conflicts.