Career Education is Pathway to Opportunity
By Dr. Karin Edwards | 2/6/2019, 6 a.m.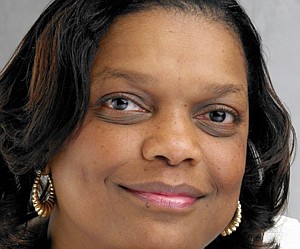 Newly-minted maritime welders can expect a starting wage of around $17 per hour to as much as $27 per hour, depending on the specifics of the job and the workplace. And these are jobs that are unlikely to be outsourced -- as long as the world needs ocean-going ships, it will need welders to work on them.
What's more, PCC is pursuing a federal designation of its Swan Island facility as a Maritime Center of Excellence, which would expand its capacity to train domestic maritime workers by admitting more students, expanding facilities, creating new maritime career pathways, and awarding credit for prior learning experience – including military service.
These kinds of opportunities didn't come to pass by accident. They're part of a deliberate push by PCC to become our area's premier job training and workforce development engine. In fact, at PCC, we call them "Pathways to Opportunity," and they are spelled out under our president's work plan.
The Maritime Welding program is but one example of the many Pathways to Opportunity available through PCC. Whether you want to be an electrician, a medical assistant, a paralegal, a web designer, a medical lab technician, or any one of a wide range of gainful occupations, PCC could be the right fit for you. There is a path to a living-wage career, economic security, and a prosperous future – and it leads through community college.
Dr. Karin Edwards is president of Portland Community College's Cascade Campus.