Friendly Texts Review
City to look for police bias in dialogue with far-right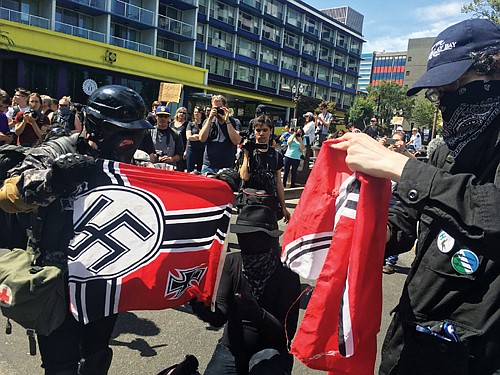 A revelation that hundreds of text messages were exchanged between a Portland police lieutenant in charge of overseeing protests and the leader of a far-right group has spurred outrage from the mayor and other community members. Now, the mayor will allow an independent investigation of the Portland Police Bureau to look for any wrongdoing and call for added police training to help them identify white supremacist groups.
The bureau has temporarily removed Lt. Jeff Niiya from his position on the rapid response team which monitors and responds to protests. He has been ordered to cease further conversations with any protest event organizer pending a police internal investigation. The text messages involved Joey Gibson, whose Vancouver-based right wing group, Patriot Prayer, has frequently drawn white supremacists and other extremists to rallies, which often have been held in Portland and resulted in violent street brawls with masked antifascists.
First reported by the Willamette Week and the Portland Mercury last week through a public records request, the text messages showed Niiya having a chummy rapport with Gibson, discussing protest plans, and even providing tips about where leftist protests, on the opposite side of his right-wing group, were taking place, in 2017 and 2018
Mayor Ted Wheeler called the text messages "disturbing" and said they "appear to cross several boundaries," adding that they "also raise questions about whether warrants are being enforced consistently and what information is being shared with individuals who may be subject to arrest."
In one exchange, Niiya appeared to give advice about one of Gibson's associates, Tusitala "Tiny" Toese, in regard to the likelihood he would be arrested at a protest while having an active warrant. Toese is a member of Proud Boys, a documented hate group.
"Just make sure he doesn't do anything which may draw our attention," Niiya texted on Dec 9. "If he still has the warrant in the system (I don't run you guys so I don't personally know) the officers could arrest him. I don't see a need to arrest on the warrant unless there is a reason."
CAIR Oregon, the Oregon Justice Resource Center, and Western States Center said in a statement that the text messages show "an inappropriate and disproportionate response to alt-right groups."
Commissioner Jo Ann Hardesty said the texts confirmed police's "collusion with right-wing extremists."
Hardesty and the aforementioned civil rights groups called for a second, independent investigation, which was swiftly obliged by Wheeler, who said Friday that Police Chief Danielle Outlaw agreed the move would be a "necessary next step."
Wheeler said he and Outlaw are implementing training to PPB in order to identify white supremacy, part of a resolution passed unanimously by city council earlier this month condemning hate groups.
In addition, Portland Police Bureau is holding a community "listening session" on the matter on Thursday, Feb. 21 from 6 p.m. to 8 p.m. at Maranatha Church, located at 4222 N.E. 12th Ave.