Mitigating Displacement
Nonprofit breaks ground for second major build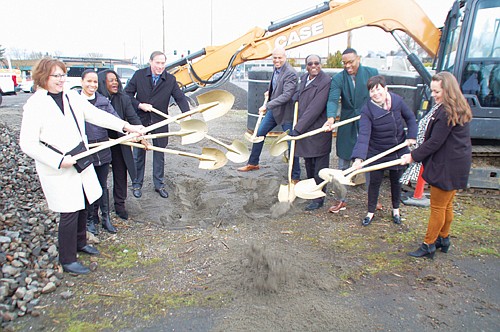 A new 70 rental-unit affordable housing development in the heart Portland's historic African American community began construction Friday, marking continued progress on a longtime housing provider's effort to mitigate and reverse displacement of primarily the black community, indigenous populations, and other long-term and low-income residents, in partnership with the city of Portland.
Officials with Portland Community Reinvestment Initiatives, Inc. (PCRI), the nonprofit behind the soon-to-be Kings + Parks building on the corner of Northeast Martin Luther King Jr. Boulevard and Rosa Parks Way, said the effort is a part of its Pathway 1000 initiative designed to address a long history of urban renewal and other actions by city government in north and northeast Portland that have historically marginalized and displaced many residents, mostly low income and people of color.
"King Parks is another step in the right direction that seeks to correct the housing issues caused by income disparities in the city of Portland and State of Oregon. Beyond the brick and mortar development, this project, implemented through the Pathway 1000 strategy, also addresses unemployment, under employment, wage disparities and the inequitable treatment that lead to these noted disparate outcomes which hit-low income and communities of color especially hard," PCRI Executive Director Maxine Fitzpatrick said.
Pathway 1000's aim is to build 100 new affordable housing per year for the next decade, which began coming to fruition in November with the completion of the Beatrice Morrow Cannady building at 3340 N.E. Martin Luther King Jr. Blvd.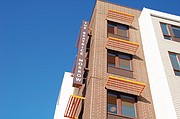 Similar to the Beatrice Morrow, the new King + Parks building will be rental units available by application through an innovative city "preference policy" specifically designed to prioritize the formerly displaced residents. It gives preference to those who were pushed out because of an urban renewal action from the city. Adopted by Portland City Council in 2016, the preference policy was designed in part with input from Fitzpatrick, who pioneered the idea with a similar "right to return" initiative within PCRI, in 2014.
After an initial struggle to get the 80-unit Beatrice Morrow building filled—only seven were either moved in or scheduled to move in on Dec. 7—the building is now leased up 94 percent (75 units moved in or scheduled to move in), according to documents PCRI provided the Portland Observer.
The temporary difficulty getting the building filled was resolved after an outside property management company PCRI contracted with to lease up the place was let go and PCRI took over the duties directly, Fitzpatrick told the Portland Observer.
The 70-unit King + Parks building, which is slated to be completed in May 2020, will contain two or more bedrooms for families for 70 percent of the units. One third of the units will be set aside for very low income tenants, making 30 percent or lower of the median family income (MFI), and with a focus on those who are homeless or at risk of homelessness. The majority of the units will be set aside for those making 50 percent MFI, as well as one market rate unit, for a building manager.