NAACP, St. Helens District Address Racism
2/20/2019, 6 a.m.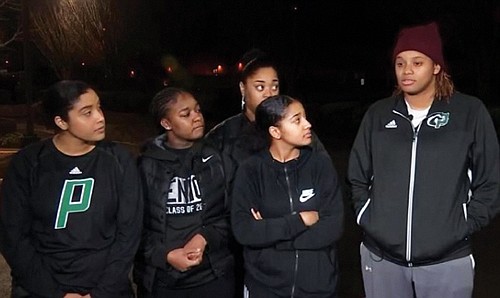 Editor's note: The following was submitted by the Portland NAACP.
Recently the NAACP Local branch 1120 received a complaint bringing attention to a recent game between JV and the varsity girls basketball teams from Parkrose High School and St. Helens High School. The complainant alleged that student attendees of St. Helens High School began screaming racial slurs (the n-word) during the game than later trailed the young female students from Parkrose to their bus while continuing to shout racist comments while imitating the sounds of monkeys. The NAACP Portland branch issued a statement calling for swift action from the St. Helens school district to address the appalling and heinous actions displayed by the St. Helens students. NAACP President E.D. Mondainé and St. Helens School District Superintendent Scot Stockwell met and discussed the best and most immediate courses of action necessary in moving forward and bridging the gap between communities. Attached is a joint statement from St. Helens superintendent Stockwell and Portland NAACP president Mondainé.
The St. Helens School District has remained relatively silent about the recent events with the Parkrose girls' basketball team because we believed publicly debating the details of this incident would do more damage than good. It does not matter who, where, or how many, what matters is it happened and we should be furious that it took place at all. Nothing can justify discrimination. The vast majority of our community, like most all communities, is repulsed by racism. We are rightfully disturbed by the entire situation as well as the picture painted of our community. Even so, we are taking ownership and action to address discrimination, racism, and ignorance. It is naive to believe this is only an issue in St. Helens.
The problem of discrimination and racism is bigger than the girls basketball game with St. Helens and Parkrose. The focus shifted to a larger stage. The St. Helens School District is taking multiple steps to develop and instill cultural competence across our system from student forums and lessons to professional development and community outreach. We know we cannot do the work alone and are grateful for our emerging partnership with E.D. Mondainé and the NAACP. We understand that it is a long process to make a significant lasting change that can't be fixed by a single feel-good assembly.
We look forward to creating a stronger School District where all people, regardless of who they are or where they come from, feel welcomed and our differences celebrated.
In collaboration with the NAACP, we hope to not only prevent a similar situation in St. Helens but prevent it from being repeated anywhere in the state of Oregon. Over the next 18 months, we will work with the NAACP and convene a team of action minded activists. The group's task will be to bridge the differences between urban and rural communities. One area of focus will be on the opportunity presented through school activities. The overall goal will be to develop a pilot program leveraging relationships by bringing together rural and urban communities to form better understandings of each other. It is through this work that we will celebrate our differences, highlight our similarities and begin to undo racism at its core.
Scot Stockwell, St. Helens School District
E.D. Mondainé, Portland NAACP