50 Years of Black Studies
PSU department was first in Northwest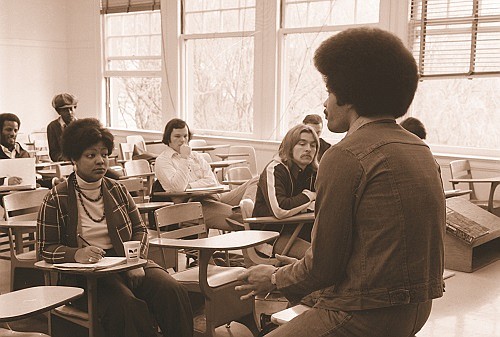 "At that time the majority of Portland black residents resided in an area known as Albina," recalled Phil McLaurin, the center's first director. "Black Studies offered courses to Albina-area residents at a PSU-funded facility known as Albina Presence, and was actively involved in all issues impacting the community residents."
The mission broadened in the ensuing years to include courses on the black experience in Europe, the Caribbean and Latin America. It added travel opportunities, and next December will offer study in Santiago de Cuba and has plans to develop a study trip to New York City — probably the most diverse black population in the United States.
The curriculum is multidisciplinary, covering history, sociology, cultural anthropology, literature, film and other fields. Although many believe that only black students take courses in Black Studies, Jackson said it's really for everybody.
"This is a degree that really helps students prepare for working with people in diverse communities, and not just the black community," she said. "It's about learning to deal with differences and becoming culturally aware."
Millner added that a complete view of America's past must deal with the racial aspects of its history, making the field of black studies "an essential component to any educational experience."
Jackson, Millner, Portland civic leaders, the Oregon Historical Society, and others are planning a big birthday celebration for the Black Studies Department's 50 year milestone in October.
John Kirkland of Portland State University communications contributed to this article.