Let it Flow for Smooth Jazz
Jones fronts salute to Grover Washington Jr.
2/27/2019, 9:53 a.m.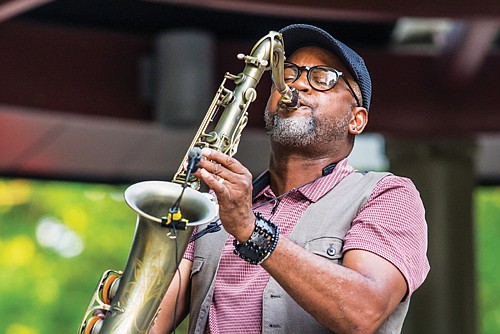 Portland's Eldon "T" Jones and his band N Touch will perform a "Let It Flow for Grover Washington Jr." concert on Friday, March 1 as part of the 2019 Biamp PDX Jazz Festival.
The concert at 7:30 p.m. in Revolution Hall at the former Washington High School in southeast Portland will also feature Gerald Veasley and Marcus Strickland and the Delvon LaMarr Organ Trio.
Jones is a Portland jazz icon who touches the hearts of audiences with his profoundly genuine saxophone playing and a groove jazz style he's honed with his band N Touch. He credits the late Grover Washington Jr., considered by many to be the founding father of smooth jazz and a master of the jazz funk genre, for making a huge impact on his playing.
Eldon started N Touch in 1995, recording their debut album in 2001. In 2015 Eldon contributed the song "Love Will Find a Way" to the Bespeak Love collaboration which reached the top 10 UK soul charts.
He continues to play in church and can be found performing at community events such as the Oregon Symphony's Gospel Christmas, Good N the Hood, the plays Who I Am Celebrating Me and Vanport the Musical, events supporting Stomp Out Abuse, Self Enhancement, Inc. and Black Parent Initiative, and World Arts Foundation, Inc.'s annual MLK Tribute where in 2017 Jones received a lifetime achievement award recognizing his music as a blessing to the community.