Juvenile Justice Primer
Parents help craft resource for navigating system
By Jessica Morkert-Shibley | 1/2/2019, 6 a.m.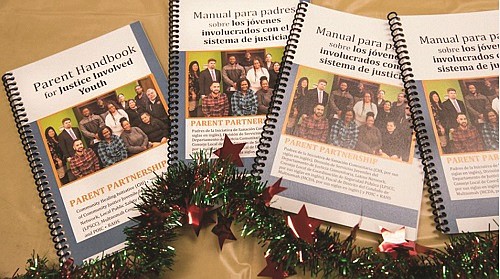 "It is great for parents to have what they need," Multnomah County Circuit Court Judge Nan Waller said. "But it's really our ultimate goal for every member of this community to stand up and make sure that children aren't coming into our juvenile justice system. And that ultimately you will put yourself out of business with the parent handbook and instead celebrate the successes it will give you."
The handbook is printed in English and Spanish. It will be available for parents at the Juvenile Services Division in Northeast Portland. It's also available through the Community Healing Initiative (CHI), a multicultural collaborative that includes the Department of Community Justice, Latino Network and Portland Opportunities Industrialization Center (POIC).
"Letting someone else know that you have walked through that fire and made it through is such an important way to give back to your community," said Commissioner Lori Stegmann who also attended the recent event. "Thank you for your love of this community."
Today, Shala's son is off probation and staying out of trouble, she said, after he was assigned to a juvenile probation officer and referred to the Community Healing Initiative.

He didn't have to do any time but he had to follow the rules.
"Ask questions," Shala said. "If you don't know, ask questions. If they don't know, ask someone else."
"No one has the right or wrong answer," she continued. "Each kid is different. Each case is different."
"I'm hoping people will see [the handbook] and speak with their kids about it and help them to prevent from getting in trouble. Because I let my kids know at the drop of a dime that you can walk out this door and your life can change."
Jessica Morkert-Shibley is the communications coordinator for Multnomah County.