From Undocumented to Judge
Milagro Theater presents 'Judge Torres'
1/2/2019, 6 a.m.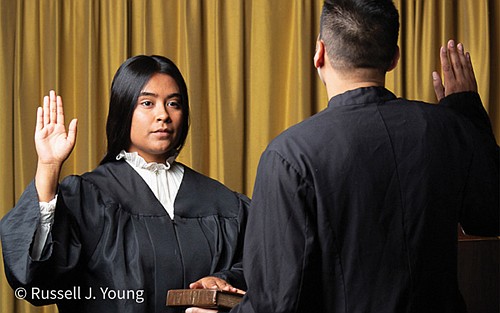 Milagro Theater, Portland's premiere Latino theater space , presents a moving story and a national touring world premiere that touches very close to home, "Judge Torres," based on the true story of Xiomara Torres, the most recent female Latina judge in Multnomah County.
From undocumented immigrant to esteemed Multnomah County judge, Torres brings diversity to the bench not often seen in Oregon or across the nation — as a Latina, but also as a child abuse victim and product of the foster care system.
"Judge Torres" follows her journey from an immigrant, a dreamer, and #MeToo survivor who crossed the Tijuana River for a chance at a better life, highlighting the strength of the human spirit and overcoming adversity, no matter the odds.
Woven with magical realism and Mayan folktales from her home country of El Salvador and through their journey across Mexico, Salvadorian playwright Milta Ortiz created this new bilingual work inspired by her own immigrant experiences.
"Judge Torres" opens with a preview on Thursday, Jan. 10 at 7:30 p.m. and continues with shows from Friday, Jan. 11 through Jan. 19 at Milagro Theatre, 525 S.E. Stark St. For tickets and more information, call the box office at 503-236-7253 or visit milagro.org.