Clemson Finishes with Perfection
First 15-0 champion in over 100 years
1/8/2019, 4:53 p.m.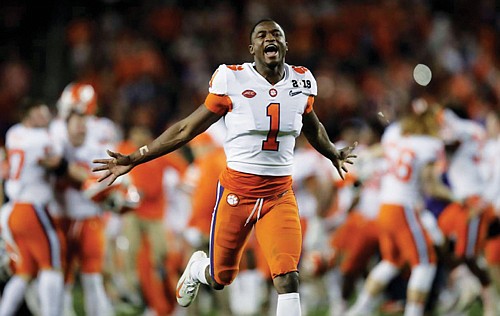 (AP) — Coach Dabo Swinney kissed the championship trophy and proclaimed this Clemson team the greatest of all time.
He's got a case.
With stunning ease — and a freshman quarterback — Clemson toppled college football's greatest dynasty again to become the first perfect playoff champion.
Trevor Lawrence passed for 347 yards and three touchdowns and the second-ranked Tigers beat No. 1 Alabama 44-16 on Monday night in the College Football Playoff national championship game in Santa Clara, Calif.
In the fourth consecutive playoff meeting between the Tigers and Tide, Clemson evened the series and beat 'Bama for the national championship for the second time in three years.
Clemson is the first college football team to finish 15-0 since the 1800s, and the first team since the playoff started five seasons ago to get through a season unscathed.
"I mean, our guys had the eye of the tiger, but I'm so proud, and then for our seniors to be able to go out 15-0 and truly be the best ever — there was a lot of talk about best ever all year long," Swinney said, talking about Alabama. "We were never in that conversation. But tonight, there's no doubt. First 15-0 team, to beat Notre Dame and to beat Alabama to do it, this team won 13 games by 20 points or more and led by an unbelievable group of seniors, amazing group. I'm just thankful to be a part of it."
Alabama coach Nick Saban and the Tide (14-1) were looking for a sixth national championship in 10 years, trying to add to an already unprecedented run in the sport. Instead, Clemson crushed Alabama, becoming the first opponent to beat the Tide by more than 14 points since Saban became coach in 2007.
Swinney's Tigers sealed their status as a superpower, no longer just 1A to Alabama's 1.
"We're 15-0, we beat the best team ever, nobody's taking that away from us," Clemson All-American defensive tackle Christian Wilkins said.