Crash Damages Highland Church
Pastor's office littered with broken glass and concrete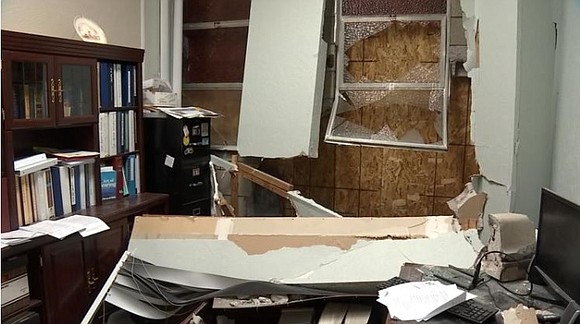 A northeast Portland church that is scheduled to host this year's annual Martin Luther King Jr. tribute by Portland's World Art Foundation was struck by a vehicle over the weekend, littering the pastor's office with broken glass and a destroyed concrete wall, but the damage was not expected to impact the Monday, Jan. 21 celebration.
The crash at Highland Christian Center on Northeast Glisan and 78th Avenue happened Saturday night just 10 minutes before a 6 p.m. service. No injuries were reported and the pastor's office was not occupied at the time.
Of the two drivers involved in the crash, one fled the scene and was later arrested on charges of driving under the influence of intoxicants, police said.
Michael Grice, the co-founder and president of the World Arts Foundation, told the Portland Observer that repairs to the church should not impact the MLK tribute because it happened on a side of the building that was not in the area where the ceremony proceedings are slated to occur.