Forum on Rise in Hate Crime
Dozens of people testify at Unite Oregon in north Portland
1/8/2019, 4:57 p.m.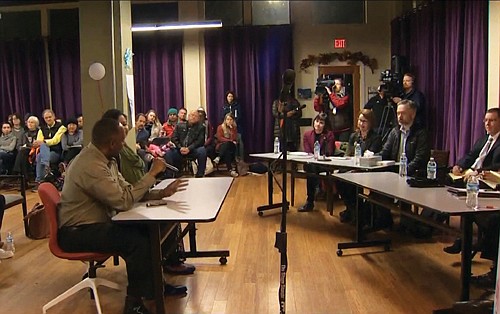 Dozens of people testified at Unite Oregon in north Portland Monday night to share their stories of being discriminated against to Oregon Attorney General Ellen Rosenblum who is holding listening sessions across Oregon this week to better understand the rise in hate crimes.
A Muslim woman being asked to take off her traditional hijab by an employer, a man who said a noose was hung at his work area at a state agency, and a man who had racial slurs hurled at him while walking down the street were among the testimonies at the Killingsworth Street nonprofit dedicated to cultural diversity.
Rosenblum was joined by her Task Force on Hate Crimes, which she created in May to make proposals to Oregon lawmakers to strengthen the laws for hate crimes, which rose 40 percent in Oregon last year, according to FBI data released in November.
"It is appalling that hate-motivated crimes are on the increase in Oregon; this reality requires us to act," said Rosenblum. "There are a lot of ideas about how to address hate crimes, but I need to hear directly from the community."
In addition to the listening session in Portland, Rosenblum also held one in Eugene Tuesday and will hold another one in Medford Wednesday.
You can report a hate crime to Oregon's Department of Justice by visiting justice.oregon.gov/crimereporting/hatecrime.