Advocacy Work Transforms Young Leader
Now 27, Whitten's efforts addressing inequities grows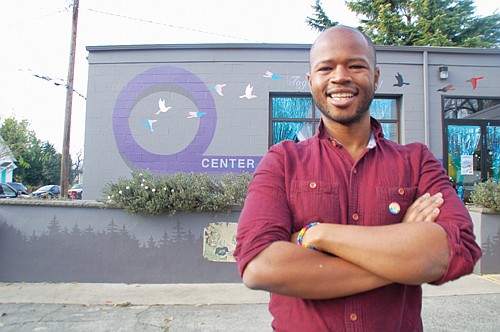 Cameron Whitten's advocacy work for marginalized communities in Portland has taken many forms over the years, from being an organizer of the Occupy Portland movement, to co-founding Portland's Resistance in response to the election of President Donald Trump, to starting a non-profit to leverage community grounded initiatives to make justice and economic prosperity a lived experience for black, brown, and indigenous people in Oregon.
Now, as the executive director of the Q Center, the largest LGBTQ+ center in the Pacific Northwest, he's continuing that fight using a lens of intersectionality—a term that denotes the multiple identities that people hold, and the sometimes compounding affects of oppression that go along with that, coined by black civil rights advocate and scholar Kimberle Crenshaw.
"Intersectionality affects me every day. Every day I know that somebody somewhere will look at me and either I will be not black enough, too black; not queer enough, too gay. I'll be too loud, too quiet; too direct, not radical enough. And because of this I've been denied so many opportunities," Whitten told the Portland Observer.
Named the permanent executive director of the Q Center, located at 4115 N Mississippi Ave., back in December by its board of directors, Whitten has already brought many successes to the organization since joining as interim executive director in July.
He has been credited with helping expand staff and volunteer opportunities at the center, partnered with the group's development manager to raise more than $134,000 at their annual fundraiser, SHINE, and worked with the board to develop strategic planning documents and host regular town hall meetings, among many other accomplishments.
The Q Center, which has been around since 2003, provides safe spaces, resources, and advocacy for people "at the intersection of identities," Whitten said.
Originally from northern Virginia, Whitten said he's experienced struggle from a very young age, both in his home and in the form of systemic oppression.
"I've experienced what it's like to be denied your basic humanity, your basic rights. And one thing that I just vividly remember, ever since I could remember, was that I had nobody there to advocate for me. It took me a while but I realized I am an advocate, I could be my own advocate, and I could advocate for others. And I've been doing that ever since," Whitten recalled.
Searching for his place in the world, Whitten bought a Greyhound bus ticket from his home town in Virginia and headed west, back in 2009.
"Portland just became my destiny," he said.
A couple years after that, Whitten became involved with the Occupy Portland movement, an offshoot of Occupy Wallstreet in Zuccotti Park, New York City, which brought international attention to the economic inequalities that plague the United States in response to the 2008 economic recession.

The Portland chapter of the movement became the largest encampment of its kind on the West Coast, drawing in an estimated 10,000 people at its launch on Oct. 6, 2011.
Whitten was there for the entire 39+ days that the protestors occupied Chapman Square in downtown and other city parks. He said that experience, the first civil organizing work he'd ever done, emboldened him to be more courageous in telling his own story and confidence in his abilities. And he'd sacrificed housing, going to school, and other responsibilities to participate.